News
Parent Who Went Viral Over Rant to Virginia School Board Announces He Is Running for Congress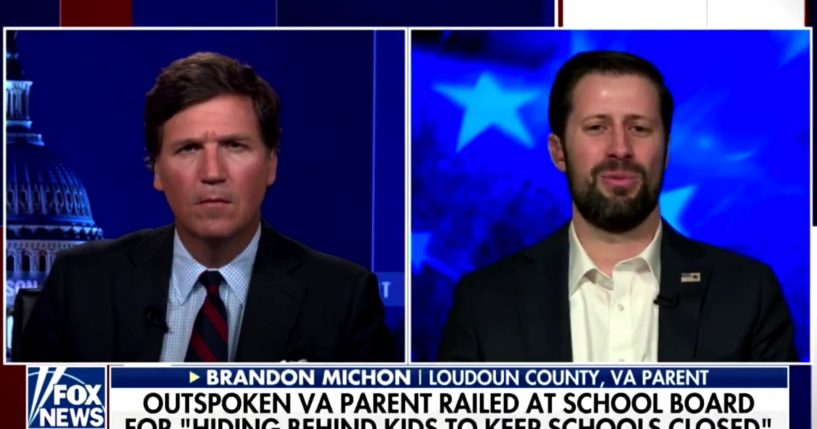 Brandon Michon, a parent who went viral over a rant to a Virginia school board, is running for Congress.
Fox News's Tucker Carlson played a clip of Michon's speech during his show Wednesday night.
"You're a bunch of cowards, hiding behind our children as an excuse for keeping schools closed. You think you're some sort of martyrs because of the decisions you're making when the statistics do not lie that the vast majority of the population is not at risk from this virus," Michon said.
Advertisement - story continues below
He added, "The garbage workers who pick up my freaking trash risk their lives every day, more than anyone in this school system. Figure it out or get off the podium because, you know what, there are people like me and a line of other people out there who will gladly take your seat and figure it out. It's not a high bar. Raise the freaking bar."
Carlson asked Michon, "Where are you now in your attempt to make the schools better?"
Michon replied, "I am running for the 10th congressional district of Virginia and we're going to let parents take and have their voice back."
He urged supporters to visit brandonforvirginia.com, adding, "I'm going to be so excited now when I hear 'Let's Go Brandon' everywhere I go."
Advertisement - story continues below
Check out the video below:
Loudoun County father Brandon Michon joins Tucker Carlson to announce that he is running for Congress. pic.twitter.com/P9drMQNiRj

— The Post Millennial (@TPostMillennial) January 27, 2022
Michon explained he is "so happy to be jumping in this race, so happy to represent so many people who may not have the same opportunity or be in a position to speak up. We just want to raise the bar."
Additionally, Michon released a video announcement to his Twitter account.
Together we will #RaiseTheBar.

Go to: https://t.co/G65VVpmZoQ to donate.#VA10 #parentsmatter #figureitout #LetsGoBrandon pic.twitter.com/Qyh8pthedo

— Brandon Michon (@BrandonMichon) January 27, 2022
Advertisement - story continues below
"Brandon Michon had the guts to fight for his kids, for our kids, and now he's stepping up to run for Congress…Raise the bar," the narrator said.
Truth and Accuracy
We are committed to truth and accuracy in all of our journalism. Read our editorial standards.
Comment Down Below
Conversation