News
Parkland Father Slams Biden's Move On Guns After He Interrupted White House Event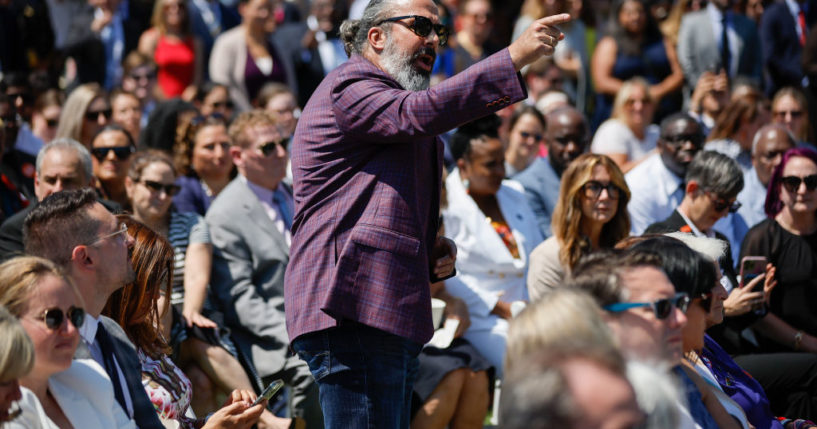 Manuel Oliver, the father of one of the 2018 Parkland shooting victims, is slamming President Joe Biden's move on guns.
Oliver, whose son Joaquin was a victim in the 2018 Florida shooting at Marjory Stoneman Douglas High School, believes the new gun legislation is not enough and slammed the president's move on guns in an interview he gave with CNN after he interrupted the president at the White House. 
During Monday's CNN interview, Oliver criticized the event for being called a celebration: "It's been a while that I've been calling out that using the word celebration, getting together, it's like we're going to a party, to a wedding today, you know, we all received invitations. And meanwhile, you can see these mothers in Uvalde that just saw how their kids were massacred inside a school."
Advertisement - story continues below
Oliver added that there should be more substantial provisions in the new legislation, "I really wish there was more in this package of bills, and I will do everything, whatever I can to get more in this package of bills."
He also said that the gun safety bill was akin to "giving a green light to Congress to wait another 30 years to do something else."
Parkland father Manuel Oliver, who called on President Biden to "do more" during his speech celebrating the bipartisan gun safety bill:

"This is like giving a green light to Congress to wait another 30 years to do something else." pic.twitter.com/dvLpX0T1PT

— The Recount (@therecount) July 11, 2022
As Biden discussed the Bipartisan Safer Communities Act, Oliver interrupted the president's speech and shouted, "We have to do more than that." 
Advertisement - story continues below
According to a White House statement, this legislation is "the most significant gun violence reduction legislation to pass Congress in 30 years," but Oliver disagrees.
There are others who agree with Oliver. Democrats believe the gun control legislation is not enough.
Do you think more needs to be done about gun laws?
In addition, Biden has also been facing heavy criticism for seemingly not being as involved while senators worked toward finalizing the bill.
Moreover, many are now questioning if this bill is enough, considering the Fourth of July parade shooting in Highland Park came just days after Biden had signed this new bill into law. 
Truth and Accuracy
We are committed to truth and accuracy in all of our journalism. Read our editorial standards.
Comment Down Below
Conversation