News
Paul Ryan Studied Narcissistic Personality Disorder After Trump Defeated Hillary Clinton: Book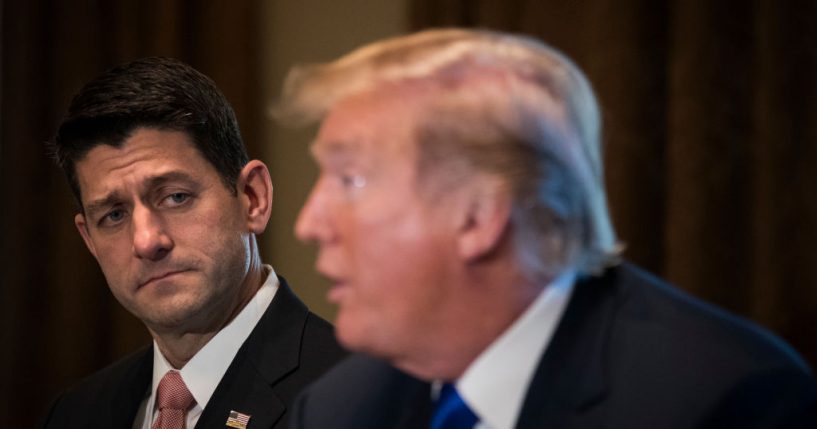 Former House Speaker Paul Ryan (R) reportedly looked into how to handle someone who has narcissistic personality disorder following President Donald Trump's victory over Hillary Clinton in the 2016 presidential election.
In their upcoming book, "Peril," The Washington Post's Bob Woodward and Robert Costa reported that Ryan spoke with a doctor from New York about the issue and studied it "for weeks."
According to the book, Ryan was caught off guard by Trump's win over Clinton. After realizing he would have to work with the former president considering Republicans held control over both the House and the Senate, Ryan had to research how to handle someone who is "amoral and transactional."
Advertisement - story continues below
A New York doctor later told Ryan, "You need to understand what narcissistic personality disorder is." He then sent an email to the former House speaker explaining his "thoughts on how to best deal with a person with anti-social personality disorder."
In his email, the doctor linked to articles on the issue. Woodward and Costa wrote, "Ryan studied them for weeks, convinced Trump had the personality disorder."
Trump criticized Ryan in May following the former House speaker's warning to the Republican Party about him, as IJR previously reported.
"Paul Ryan has been a curse to the Republican Party," Trump wrote in a statement. "He has no clue as to what needs to be done for our Country, was a weak and ineffective leader, and spends all of his time fighting Republicans as opposed to Democrats who are destroying our Country."
Advertisement - story continues below
He continued, "As a Republican, having Paul Ryan on your side almost guarantees a loss, for both you, the Party, and America itself!"
Ryan took a swipe at Trump during a speech, saying, "Once again, we conservatives find ourselves at a crossroads. And here's one reality we have to face: If the conservative cause depends on the populist appeal of one personality, or on second-rate imitations, then we're not going anywhere."
Commenting on the end of Trump's presidency, Ryan argued, "It was horrifying to see a presidency come to such a dishonorable and disgraceful end."
Truth and Accuracy
We are committed to truth and accuracy in all of our journalism. Read our editorial standards.
Comment Down Below
Conversation