News
Pelosi Criticizes MSNBC Over Coverage of Story on Biden's Classified Documents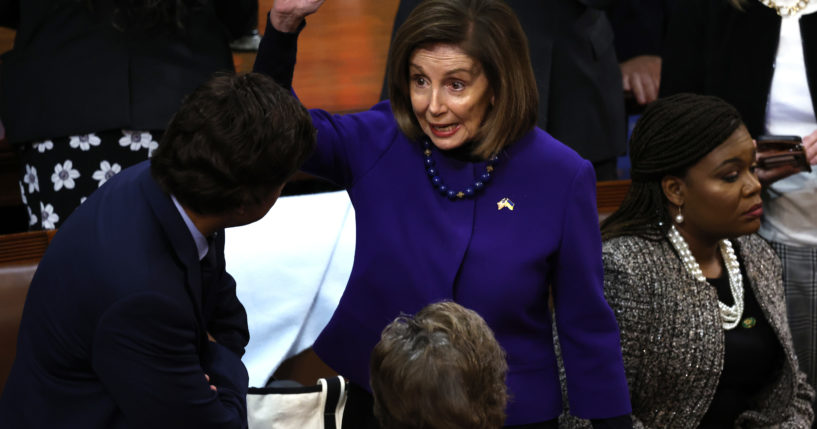 Former House Speaker Nancy Pelosi appears to be taking issue with how MSNBC is covering the story surrounding President Joe Biden's classified documents.
During an interview with The New York Times' Maureen Dowd, the reporter noted "some Democrats are rethinking a Biden re-election run because they are upset over the slippery, inept way the White House has handled the discovery of classified documents from Biden's days as vice president in multiple places — including the Wilmington, Del., garage that houses his green 1967 Corvette."
Additionally, Dowd pointed out Democrats are concerned that it "neutralizes" their "ability to go after Trump on the issue, especially after the president cavalierly said on Thursday that he has 'no regrets' about it."
Advertisement - story continues below
Pelosi explained to Dowd there is a difference between "obstruction" on documents former President Donald Trump handled and the way Biden "openly put forward" the documents.
She told Dowd it is important to know, "What is the nature of the documents? Maybe there's one word in there that shouldn't be."
Or, Pelosi questioned whether it is in the "strictest" category of classified documents.
Dowd then noted even some MSNBC analysts claim the White House's messaging surrounding the issue was bad.
Advertisement - story continues below
"I'm not a big fan of MSNBC. I love some individuals there, but. …" Pelosi said.
In Opinion

"It was a cause of wonder that they had to take 15 votes," Nancy Pelosi tells @maureendowd about Kevin McCarthy becoming the next House speaker. "How does that bode for what comes next?" https://t.co/Crvq3w97ui

— The New York Times (@nytimes) January 22, 2023
Pelosi's comments came as more classified documents were discovered at Biden's Delaware residence after a 13-hour search, as IJR reported.
Bob Bauer, a personal attorney for Biden, said in a statement the Department of Justice "took possession of materials it deemed within the scope of its inquiry, including six items consisting of documents with classification markings and surrounding materials, some of which were from the President's service in the Senate and some of which were from his tenure as Vice President."
Investigators "took for further review personally handwritten notes from the vice-presidential years," the statement reads.
Advertisement - story continues below
Some Democrats appear to be concerned as Sen. Joe Manchin (D-W.Va.) and Sen. Tim Kaine (D-Va.) called for an investigation into Biden's handling of the documents.
"The reports about President Biden's mishandling of classified documents are extremely irresponsible and disturbing. These allegations should be investigated fully," Manchin said.
Kaine said the matter "raises serious questions and the appointment of an unbiased special prosecutor to investigate the matter is the right step."
Truth and Accuracy
We are committed to truth and accuracy in all of our journalism. Read our editorial standards.
Comment Down Below
Conversation