News
Pelosi Insists Dems' $3.5 Trillion Spending Bill Will Be 'Fully Paid for'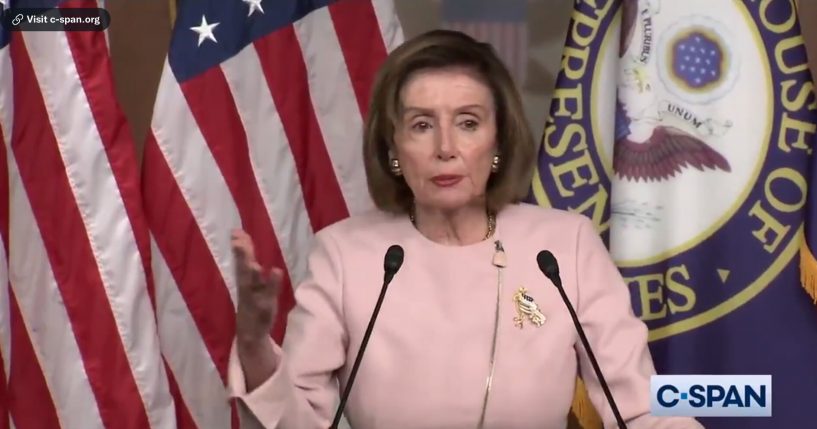 House Speaker Nancy Pelosi (D-Calif.) insists that Democrats' $3.5 trillion spending package will be paid for.
During a press conference on Thursday, CNN's Manu Raju asked if Sen. Kyrsten Sinema (D-Ariz.) had shared her opposition to raising corporate tax rates with Pelosi. He also asked, "Could this be fully paid for as you have promised if her view prevails?"
"The bill will be fully paid for. The matter is in the hands of our chairs of the finance committee and the ways and means committee," she added.
Advertisement - story continues below
Raju pressed if Sinema has shared her opposition to increasing the tax rates, Pelosi said, "Her position is well known."
Watch the the video:
.@mkraju asks about Senator Sinema's opposition to increasing corporate and individual taxes rates.@SpeakerPelosi: "The bill will be fully paid for. The matter is in the hands of our chairs…Her position is well known." pic.twitter.com/P2BxcSBzAx

— CSPAN (@cspan) October 21, 2021
President Joe Biden originally proposed raising the corporate tax rate from 21% to 28% to help pay for the bill. However, White House officials reportedly told Democratic lawmakers that the tax increase is not likely to make it into the final bill.
Advertisement - story continues below
Sinema, a key vote in the Senate, has reportedly voiced opposition to increasing tax rates for business, high-income individuals, or the capital gains tax.
As The Wall Street Journal notes, "Losing the rate increases would punch a significant hole in the Democrats' plans for funding the package, now expected to cost around $2 trillion over a decade. The House's corporate tax rate increase was projected to raise $540 billion over a decade, while the tax rate increases on ordinary income and capital gains would raise nearly $300 billion."
Biden has previously claimed that his spending plan would not add to the national debt.
My Build Back Better Agenda costs zero dollars.

Instead of wasting money on tax breaks, loopholes, and tax evasion for big corporations and the wealthy, we can make a once-in-a-generation investment in working America.

And it adds zero dollars to the national debt.

— President Biden (@POTUS) September 26, 2021
According to Reuters, Biden and his staff are "racing to close a deal as soon as this week on a set of tax hikes they hope will fund more than $1.75 trillion over a decade in programs ranging from childcare to eldercare, healthcare, affordable housing and climate change mitigation."
Advertisement - story continues below
White House spokesperson Andrew Bates told the outlet, "There is an expansive menu of options for how to finance the president's plan to ensure our economy delivers for hardworking families, and none of them are off the table."
While the original price tag of the package was expected to be $3.5 trillion, Biden has also reportedly told Democrats to aim for a bill that costs around $1.9 trillion.
Truth and Accuracy
We are committed to truth and accuracy in all of our journalism. Read our editorial standards.
Comment Down Below
Conversation