News
Pelosi Accuses McCarthy of 'Putting Self-Promotion' Over Safety of US Troops in Afghanistan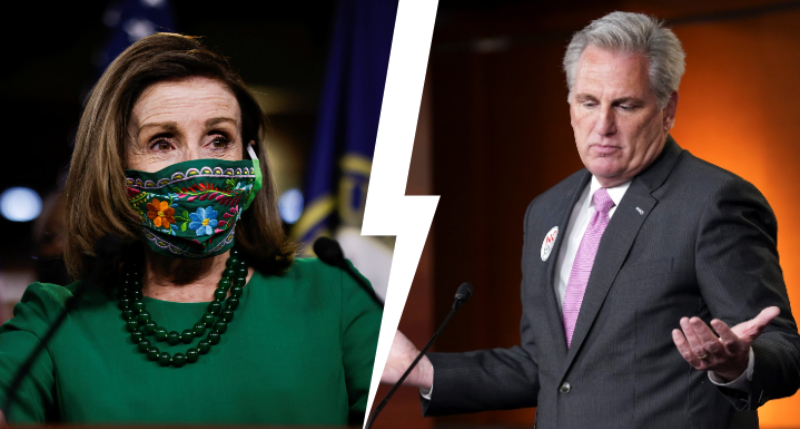 House Speaker Nancy Pelosi (D-Calif.) is criticizing House Minority Leader Kevin McCarthy (R-Calif.) for pushing to extend the U.S. presence in Afghanistan.
In a statement on Tuesday, Pelosi said, "McCarthy has been on every side of the debate over Afghanistan – except the side of our troops."
"McCarthy worked to undermine our military as they ended the military mission in Afghanistan – the best way to protect the lives of our troops – and secure the prospects of civilian departures for those who want to leave Afghanistan in the weeks and months ahead," she charged.
Advertisement - story continues below
Pelosi added:
"Last week, while getting confused about whether he wanted to withdraw all U.S. forces from Afghanistan or surge troops to the region, McCarthy openly called for tying the hands of the Commander-in-Chief and defunding the brave American soldiers evacuating civilians and Afghan allies from the country."
The California Democrat shared a screenshot of a tweet from Punchbowl News' Jake Sherman about McCarthy's views on whether there should be a U.S. military presence in Afghanistan.
And then he said no one believes there should be troops there.

So we're all a bit unclear on what he believes here.

And, yes, we asked him about the dissonance between his position now and when Trump was in office.

— Jake Sherman (@JakeSherman) August 27, 2021
Advertisement - story continues below
Finally, Pelosi said, "President Biden ended the longest war in American history while Minority Leader McCarthy spent the week putting self-promotion over the safety of American soldiers risking their lives to evacuate more than 120,000 from a war zone."
Pelosi's statement comes after McCarthy called for her to bring lawmakers back to Washington, D.C., to prevent the U.S. military from completing its withdrawal until every American got out of Afghanistan.
Do you think McCarthy put politics ahead of U.S. troops?
During an interview with Fox News on Friday, the Republican leader said Pelosi should "bring us back into session, bring up this bill, move this deadline and make sure every single American is able to leave Afghanistan."
Pelosi's Deputy Chief of Staff Drew Hammill responded to McCarthy's push last week. He said, "Right now, American heroes are risking & giving their lives to execute an extraordinarily dangerous evacuation, & the Minority Leader wants to defund the mission & tie the Commander in Chief's hands in the middle of the most dangerous days of the operation."
"What's not going to help evacuate American citizens is more empty stunts & distraction from the Minority Leader who sat idly by as Pres. Trump proudly negotiated with the Taliban. The Biden Administration has repeatedly briefed the Congress & providing frequent updates each day," Hammill added.
Truth and Accuracy
We are committed to truth and accuracy in all of our journalism. Read our editorial standards.
Conversation