News
Pelosi Refuses to Share If She Will Run for Speaker Again If Dems Keep the House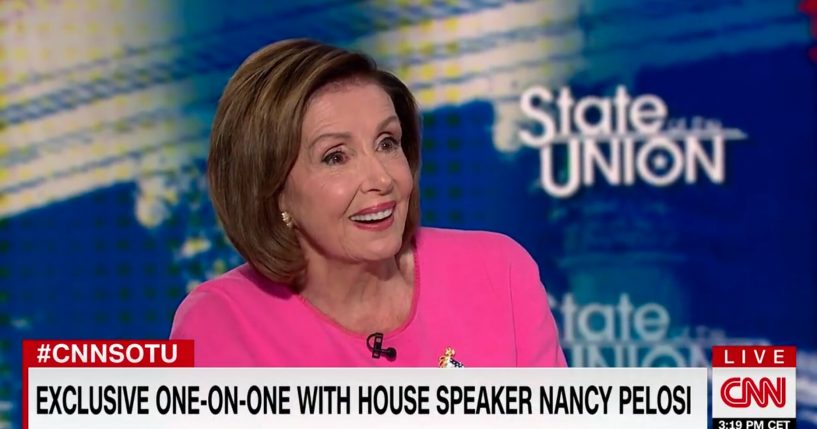 House Speaker Nancy Pelosi (D-Calif.) is not saying whether she will make good on her agreement that she would give up the gavel in 2023 if Democrats maintain control of the House in the midterm elections.
On Sunday, CNN's Jake Tapper asked Pelosi during an appearance on CNN's "State of the Union," if she would run for reelection for the speaker.
"Oh, you think I'm going to make an announcement right here and now?" Pelosi responded.
Advertisement - story continues below
Tapper pressed, "Why not? You're going to run for reelection, though, yes?"
The California Democrat refused to give an answer, but asked, "Why would I tell you that now?"
"Well, probably I would have that conversation with my family first if you don't mind," she added.
Watch the video below:
Advertisement - story continues below
Democratic House Nancy Pelosi won't say whether or not she plans to run for Speaker again if Democrats keep the House, telling @jaketapper she will that conversation with her family first. pic.twitter.com/BrvnGmcMsr

— State of the Union (@CNNSotu) October 24, 2021
Pelosi said in 2018 that she would not serve more than two terms as speaker. Under that promise, she would give up the speaker's gavel in early 2023.
Do you think Pelosi would run for speaker again?
However, in Nov. 2020, she was asked if she would follow through with her 2018 statement and make her current term her last.
"Well, let me just say that when that conversation took place, there was a move to put limits on the leadership and the chairs of committees," she responded. "It never came up…They said they were going to do it. They didn't do it. What I said then was, whether it passes or not, I will abide by those limits."
Finally, Pelosi said, "Listen, if my husband is listening, don't make me have to be more specific than that because we never expected to have another term now. I consider this a gift. And I can't wait to be working with Joe Biden and preparing us for our transition into the future. But I don't want to undermine any leverage I may have, but I made the statement."
Truth and Accuracy
We are committed to truth and accuracy in all of our journalism. Read our editorial standards.
Conversation