News
Pelosi Reportedly Asked if She Was a 'B***H' During a Teleconference Call With Mike Pence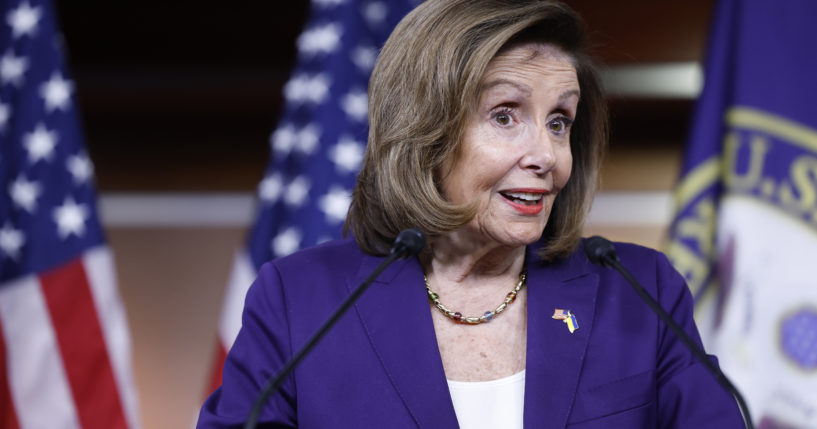 House Speaker Nancy Pelosi (D-Calif.) muted herself during a phone call with former Vice President Mike Pence and asked a direct question, according to a report.
Politico Playbook reported, after reviewing footage of a documentary, that Pelosi was listening in from home to a 2020 teleconference about the Trump administration's response to the COVID-19 padnemic.
"What is the point of this call?" her daughter, filmmaker Alexandra Pelosi, asked.
Advertisement - story continues below
Pelosi replied, "They're checking a box."
Politico explained Pelosi then "unmuted herself, sarcastically declared 'this has been a useful exchange' and went on to grill Pence on how the administration was tracking how the virus was spreading before signing off with a cheery 'Happy Easter!'"
After muting herself, Pelosi reportedly turned to her daughter and asked, "Am I a b***h?"
The outlet noted this is just one of several moments captured in Alexandra's new documentary, "Pelosi in the House."
Advertisement - story continues below
Journeys with Nancy.#PelosiInTheHouseHBO: A behind-the-curtain, candid look at Nancy Pelosi's decades-long career from filmmaker and daughter, Alexandra Pelosi. The @HBO original documentary premieres December 13 on @HBOMax. pic.twitter.com/wvNk56sDOq

— HBO Documentaries (@HBODocs) December 7, 2022
While speaking to Vanity Fair, Alexandra shared she never asked her mother for permission to film her.
"She never signed a release." Alexandra said.
She added, "As somebody who beautifully crafted her own career, I'm sure it's gonna be very difficult for her to watch how she looks to her own daughter … What's she gonna do, sue her daughter? She's not gonna sue me."
Additionally, Vanity Fair asked the filmmaker whether she was considering adding the news about the attack on her father in the movie.
Advertisement - story continues below
"It's too soon and I'm too bitter. I have a very dark sense of humor, and I still can't find humor in an 82-year-old man being attacked in his home in the middle of the night, and people made jokes about it and laughed about it," Alexandra said.
She continued, "The day that I was sitting in the ICU with my father … it destroyed my faith in humanity. And seeing politicians using it for their own political purposes—to me, that's just unforgivable."
Alexandra said the "whole thing about my father is just personal to us and we're living with it every day."
The documentary will premiere on Tuesday on HBO Max.
Truth and Accuracy
We are committed to truth and accuracy in all of our journalism. Read our editorial standards.
Comment Down Below
Conversation