Pelosi, Schiff Demand Director of National Intelligence Resume In-Person Election Briefings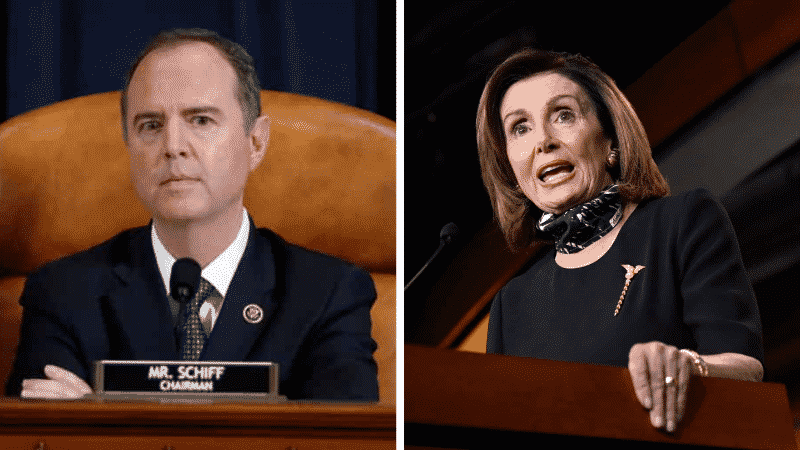 Congressional Democrats are demanding that Director National Intelligence John Ratcliffe reinstate in-person election-related briefings to lawmakers. 
In a letter to Ratcliffe, House Speaker Nancy Pelosi (D-Calif.), House Intelligence Committee Chair Adam Schiff (D-Calif.), and Rep. Peter Visclosky (D-Ind.)—Chairman Subcommittee on Defense House Committee on Appropriations — called for the resumption of election-related briefings.
The letter read, "Your abrupt decision to cancel previously scheduled election-related briefings, contrary to repeated private and public commitments by the Office of the Director of National Intelligence (ODNI), is an abdication of your responsibility to keep the American people and their elected representatives informed of foreign threats to the 2020 election."
"It is all the more troubling as it comes only weeks before the American people begin casting votes and within weeks of the Intelligence Community (IC) affirming publicly that our elections and American voters are once again the target of foreign interference," it added.
The lawmakers went on to mention that Intelligence Community (IC) officials public confirmed that Russia was "actively undertaking a 'range of measures" to interfere in the election.
Additionally, they voiced concerns that "Congress itself is the target of a concerted effort by Russia to launder and amplify disinformation."
Congressional Democrats have raised concerns that Sen. Ron Johnson's (R-Wisc.) investigation into Democratic presidential nominee Joe Biden and Ukraine was disseminating Russian disinformation.
Their letter comes after Ratcliffe announced that he is suspending in-person election relation intelligence briefings.
However, the lawmakers said, "Written finished intelligence products are no substitute for intelligence briefings. Only through regular and in-depth briefings can Members of Congress, as the people's elected representatives, hear directly from our career intelligence professionals, probe and scrutinize the underlying reporting and basis for intelligence assessments, learn what steps the United States is taking to thwart foreign interference, and ensure that the intelligence judgments are not being influenced or skewed for political purposes."
The letter went on to call for the IC to continue "provide both the congressional leadership and the intelligence committees with all election-related intelligence reporting and assessments."
Additionally, they urged Ratcliffe to reinstate previously scheduled briefings before the full House and the House Permanent Select committee on Intelligence (HPSCI), as well as presidential campaigns and political committees.
"This intelligence belongs to the American people, and they have a right to know more about ongoing foreign efforts to influence their votes and interfere in our democratic process," the letter added.
"With voting imminent in many states, it is imperative for the IC to disclose as much information as possible publicly—without further delay, conflation, or false equivalency—about our adversaries' aims, activities, and agents, as well as what the IC is doing to expose and thwart this interference."
Finally, they warned, "If you are unwilling to resume election-related intelligence briefings to Congress, we will have no choice but to consider the full range of tools available to compel compliance."
Ratcliffe previously defended his decision to cancel in-person briefing as he cited his concern that classified information was being leaked after the briefings.
"A number of members of Congress went to a number of different publications and leaked classified information, again, for political purposes, to create a narrative that simply isn't true, that somehow Russia is a greater national security threat than China," he said during an interview on Fox News on Sunday.
However, Schiff denied that he or any of his staff have leaked classified information, "I haven't, my staff hasn't. I can't speak for what all the members of the committee have done or not done, including a lot of the Republican members."