Pelosi: Trump's Decision To Downplay Coronavirus Shows His 'Contempt' for Americans, Science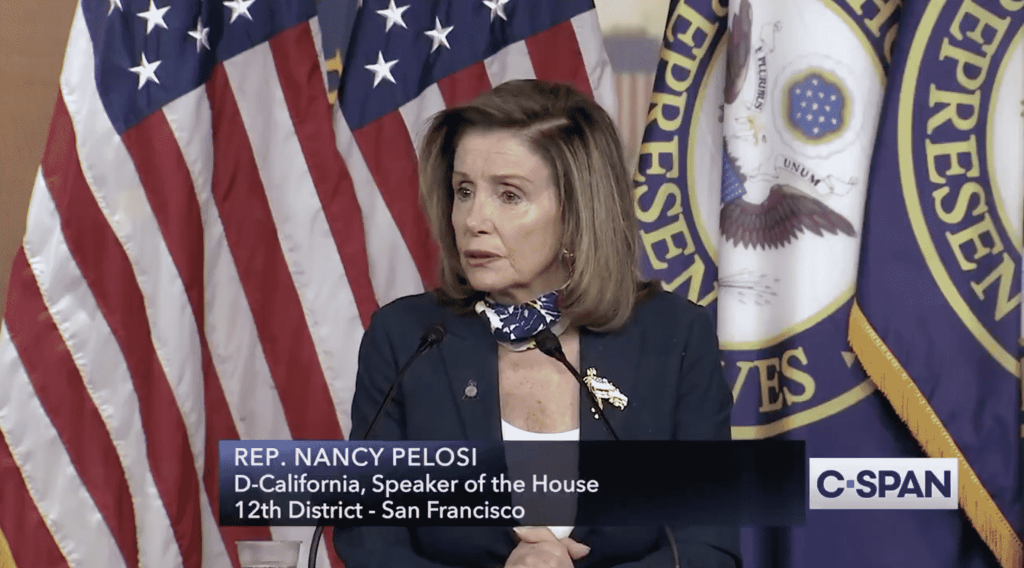 Criticism is mounting in the wake of a new book that shows President Donald Trump was aware of the lethality of COVID-19 and chose to downplay it in the early days of the outbreak.
House Speaker Nancy Pelosi (D-Calif.) took a few moments during her weekly press conference to address the revelations detailed in a new book written by Washington Post associate editor Bob Woodward.
"[Trump's] delay, denial, and distortion of what was happening has caused many deaths," she said.
She also noted that since May 15 — when the House passed a $3 trillion relief bill — there have been an additional 5 million coronavirus cases and roughly 100,000 more deaths confirmed in the U.S.
She continued, "What the president did, in those comments, showed his contempt. Contempt for the American people and their health. Contempt for science. Contempt for any real effort to crush the virus. Contempt for his supporters, their children, their parents."
Pelosi also took aim at Trump's assertion that he wanted to downplay the threat of the virus to avoid a panic, "Nobody wants to cause a panic. We want to show leadership. Show a strategic plan, following the science, allocating the resources in order to get the job done."
Watch the video below:
.@SpeakerPelosi on President Trump: "His delay, denial and distortion of what was happening has caused many deaths."

Full video here: https://t.co/lkwZAINIqA pic.twitter.com/x4Aexo54kn

— CSPAN (@cspan) September 10, 2020
Her comments come a day after excerpts from Woodward's forthcoming book "Rage" was released. Those portions of the book show that the president knew in early February that the virus was deadlier than the flu.
In a previous interview with Woodward, the president admitted that COVID-19 is "more deadly than even your strenuous flu."
Additionally, he said he wanted to "play it down" to avoid causing a panic in the country.
When asked if Trump had intentionally misled the public about the threat posed by the virus, White House Press Secretary Kayleigh McEnany said on Wednesday, "The president has never lied to the American public on COVID."
She also argued Trump was showing leadership by trying to maintain calm.
Later that day, Trump was asked if he misled the public about the virus, he responded, "If you said in order to reduce panic, perhaps that's so."
He explained why he wanted to downplay the virus, "The fact is I'm a cheerleader for this country. I love our country, and I don't want people to be frightened. I don't want to create panic, as you say, and certainly, I'm not going to drive this country or the world into a frenzy."
Despite the president's own words, Dr. Anthony Fauci — a member of the White House coronavirus task force — told Fox News that he "didn't get any sense" that the president was downplaying the outbreak, as IJR reported.
"I may not be tuned in to the right thing that they're talking about, but I really didn't see any discrepancies between what he told us and what we told him and what he ultimately came out publicly and said," he added.
The administration's explanation of the quotes in Woodward's book did not ease outrage among some who claimed the president betrayed the American public by downplaying the severity of the outbreak.
At a campaign stop in Michigan, Democratic presidential nominee Joe Biden called Trump's strategy a "life and death betrayal of the American people."
He added, "He had the information. He knew how dangerous it was, and while this deadly disease ripped through our nation, he failed to do his job on purpose."