News
Biden Admin: Nearly 450 Americans Are Still in Afghanistan Almost 2 Months After Withdrawal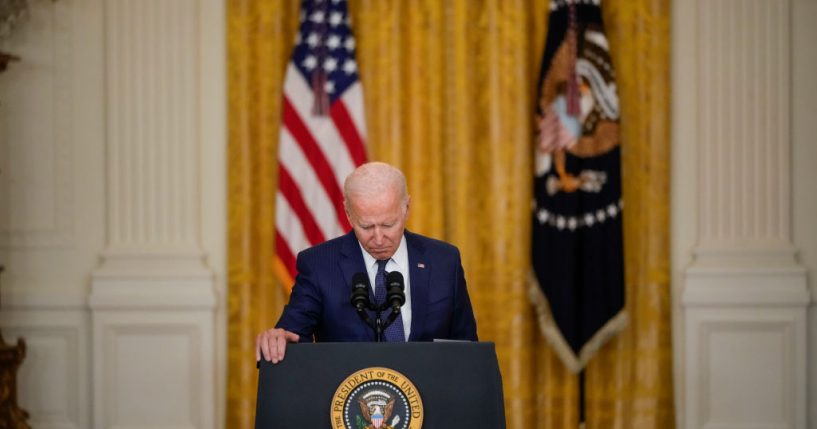 Nearly two months after the U.S. completed its withdrawal from Afghanistan, the Pentagon's No. 3 official told lawmakers that there are roughly 200 Americans who still want to leave the country.
During a Senate hearing on Tuesday, Sen. James Inhofe (R-Okla.) confronted Under Secretary of Defense for Policy Colin Kahl over what he claimed are "confusing" numbers released by the Biden administration about the number of Americans who are left in Afghanistan.
"One of the many confusing things about this whole thing is that we really don't know how many Americans are left in Afghanistan," he said, adding, "The administration's number of U.S. citizens left in Afghanistan keeps changing. We all understand that. It's very confusing."
Advertisement - story continues below
He went on to note that administration officials have "always said 100 to 200 U.S. citizens left in Afghanistan." However, he pointed out that the State Department said it had "already withdrawn 234 and is in contact with 363 others, 176 of whom want to leave."
"Now if we can figure this out you're doing a lot better than I have done," Inhofe said.
Kahl responded, "In terms of how many American citizens we estimate are currently in Afghanistan, the Department of State is in contact with 196 American citizens who are ready to depart –and arrangements are being made for them to do so, either via air or over ground."
"Another 243 American citizens have been contacted and are not ready to depart, either because they want to stay in Afghanistan or aren't ready," he added.
Advertisement - story continues below
Pentagon's No. 3 official says nearly 450 Americans remain in Afghanistan. 196 say they want to escape. Another 243 say they don't want to leave right now, Colin Kahl tells Senate panel.

— Lucas Tomlinson (@LucasFoxNews) October 26, 2021
The combined number of Americans who want to leave and "are not ready to depart" adds up to 439, which is higher than the 363 number the State Department shared with Congressional staff last week.
On Aug. 30, Secretary of State Antony Blinken said the number of Americans still in Afghanistan who wanted to leave was "under 200 and likely closer to 100."
During a press conference on Friday, State Department spokesperson Ned Price explained why the number of Americans had increased almost two months later, "The number of Americans in that category is approximately 100 to 200. That figure has risen in recent days as more Americans in Afghanistan have decided to depart in light of our successful facilitation of dozens of departures in recent weeks."
"It is true that in recent weeks we have heard from Americans who previously had not made themselves known to us," he added.
Advertisement - story continues below
President Joe Biden has been criticized for not making good on his promise to keep U.S. forces in Afghanistan until every American who wanted to leave was able to get out of the country. During an August interview with ABC News, the president declared, "If there's American citizens left, we're gonna stay to get them all out."
Despite the withdrawal of U.S. forces, administration officials vowed to use diplomatic and economic pressure to ensure that Americans who want to leave are able to do so.
Truth and Accuracy
We are committed to truth and accuracy in all of our journalism. Read our editorial standards.
Comment Down Below
Conversation