News
Pentagon Says It Does Not Believe There Was a Second Explosion in Kabul After 'Incorrect' Report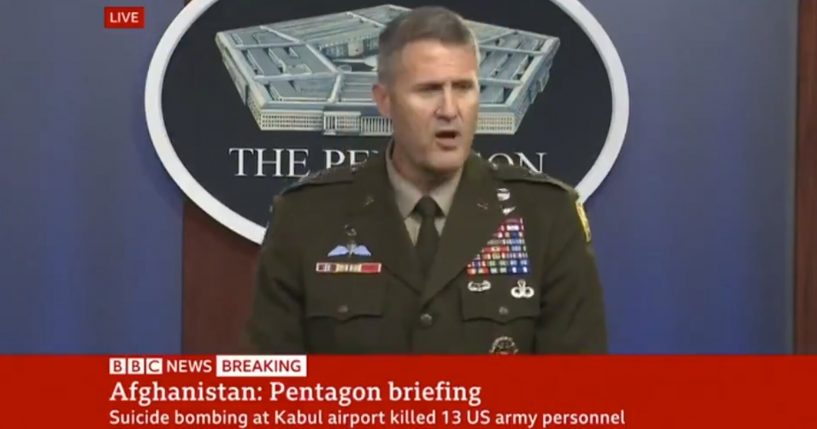 The Pentagon does not believe there was a second explosion in Kabul following an "incorrect report."
Army Major General William Taylor told reporters Friday, "I can confirm for you that we do not believe that there was a second explosion at or near the Baron Hotel, that it was one suicide bomber."
He added, "We're not sure how that report was provided incorrect but we do know, it's not any surprise that in the confusion of very dynamic events like this can cause information sometimes to be misreported or gargled."
Advertisement - story continues below
Noting the casualty list has been updated to include a 13th U.S. service member, he added, "Our thoughts and prayers continue to go out to the families and to the teammates that we have lost."
Taylor also reported that two flights landed in Germany carrying wounded troops.
He continued, "In Kabul, commanders on the ground continue to assess the risk and the dynamic situation there as they have been since the beginning. Forced protection remains paramount with the continued threat."
Watch Taylor's remarks below:
Advertisement - story continues below
"We do not believe there was a second explosion at or near the Baron hotel… it was one suicide bomber"

US Army Major General Taylor confirms 13 US soldiers were killed in the Kabul airport attack, adding wounded US troops have been flown to Germanyhttps://t.co/F46hXcaz8L pic.twitter.com/Q5LQUxvGZg

— BBC News (World) (@BBCWorld) August 27, 2021
According to Afghan and U.S. officials, the attack killed at least 60 Afghans and 13 U.S. troops. Pentagon spokesman John Kirby said on Thursday that one explosion was near an entrance to the airport and another was close to the hotel.
Truth and Accuracy
We are committed to truth and accuracy in all of our journalism. Read our editorial standards.
Comment Down Below
Conversation