News
Peta Murgatroyd Gives Followers a Personal Look Into Her IVF Journey With Husband Maks Chmerkovskiy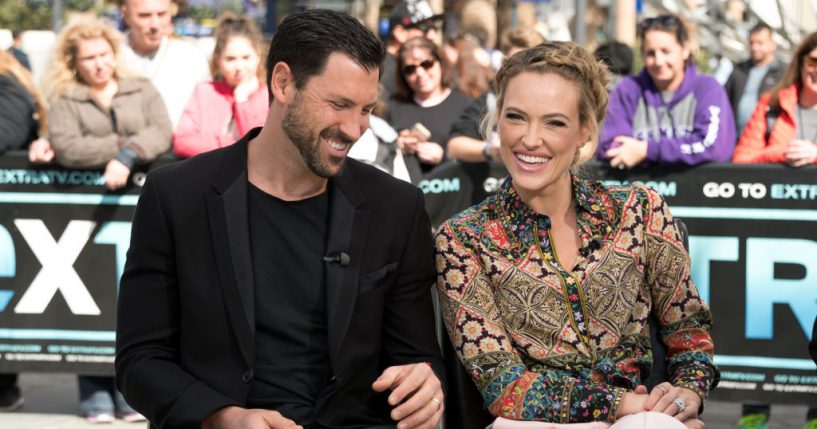 Peta Murgatroyd is sharing an update on her IVF (in vitro fertilization) journey with her husband Maks Chmerkovskiy.
After revealing that she has suffered three miscarriages, Murgatroyd posted a video on her Instagram showing her followers a recent ultrasound appointment she attended with Chmerkovskiy, who she said was there with her for the first time.
The caption reads, "A very up close and personal ultrasound appointment. Meet my follicles guys. [Maksim Chmerkovskiy] was only slightly traumatized by some 'tools!' Sorry in advance [Dr. Mark Surrey] for our immature humor."
Advertisement - story continues below
In the video, Murgatroyd shared that it is the last ultrasound before they find out what day they are doing the egg retrieval.
After the appointment, Murgatroyd shared that the nurse told them that they have "11 huge follicles in one ovary and 17 huge follicles in the other."
"I mean, let's just have a lot of babies! Let's have a soccer team, what do you think?" She said to Chmerkovskiy.
Advertisement - story continues below
The couple already has a five-year-old son together, according to People.
Hebrews 11:1 says, "Now faith is the substance of things hoped for, the evidence of things not seen."
In her Instagram video documenting day three of her IVF journey, Murgatroyd showed herself doing a treatment and expressed that she "had a lot of excitement" and happiness at just the thought of being able to do this.
The caption reads, "IVF treatment Day 3. Things are looking up 🙂 I have to say reading all your DM's and comments are making me feel so supported, seen and heard. Thank you for being so open with me about your journeys to pregnancy, I'm feeling hopeful and full of excitement. I'm so glad I'm sharing all this with you!! Speaking my truth has truly helped me move on. I'm going to do an IG live soon about life in general, would you guys like that?? XO."
Truth and Accuracy
We are committed to truth and accuracy in all of our journalism. Read our editorial standards.
Comment Down Below
Conversation