News
Pete Buttigieg's Office Issues Response After Internal Watchdog Announces Audit of His Jet Use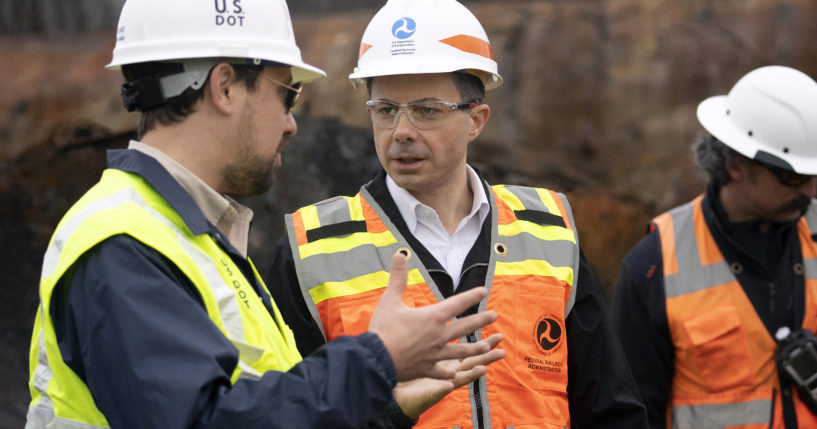 Transportation Secretary Pete Buttigieg's use of jets for official trips will be audited, but his office does not appear too concerned.
On Monday, The Washington Post reported that Buttigieg's office issued a statement saying an internal watchdog will audit his use of Federal Aviation Administration jets for official trips.
The Post noted the Transportation Department said Buttigieg used FAA planes for a total of 18 flights over the course of seven trips.
Advertisement - story continues below
Buttigieg's office explained, in all but one trip, it was cheaper to fly using an FAA aircraft than commercially, per the Post.
However, the cost of Buttigieg and his staff's flights totaled $41,905.20.
The audit was requested by Sen. Marco Rubio (R-Fla.), who pointed to a Fox News report.
Kerry Arndt, a spokeswoman for Buttigieg, said in an emailed statement to the Post the review is welcomed.
Advertisement - story continues below
The statement said the review would be an opportunity to "put some of the false, outlandish, and cynical claims about the Secretary's mode of travel to rest."
Arndt said, "The fact remains that he flies commercially the vast majority of the time."
The statement continues, "The exceptions have been when the Department's career ethics officials, who have served under both Democratic and Republican administrations, determined that the use of a 9-seat FAA plane would be either more cost effective or should be approved for exceptional scheduling or security reasons."
Rubio penned a letter to inspector Eric Soskin in December saying Americans "deserve assurances that their tax dollars are not wasted by the government's highest officials."
He added, "I am committed to both holding Secretary Buttigieg accountable for any fraudulent use of government aircraft, and ensuring compliance with DOT policies and procedures. Therefore, I appreciate your prompt and thorough review of these issues."
Advertisement - story continues below
The statement from Buttigieg's office comes as he continues to receive criticism over his handling of a train derailment in Ohio.
"Pete Buttigieg has taken a lot of bullets for the president on this," one senior Democrat said last week, as Politico reported.
Buttigieg recognized during an interview with CBS News he "could have spoken sooner about how strongly I felt about this incident, and that's a lesson learned for me."
Truth and Accuracy
We are committed to truth and accuracy in all of our journalism. Read our editorial standards.
Comment Down Below
Conversation