News
Video: Peter Doocy's 'Greatest Hits' With Psaki As Press Secretary Holds Final Briefing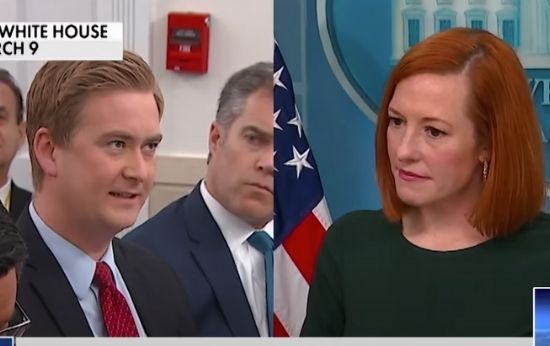 White House Press Secretary Jen Psaki is holding her final press briefing, and with that, Fox News has put together a montage of her and Peter Doocy's "greatest hits."
It is an "end of an era," as Fox News put it.
Psaki's last White House press briefing will be on Friday.
Advertisement - story continues below
In bidding farewell to her, Fox put together a montage of videos of Doocy and Psaki's interactions.
"She's given a ton more Q&A than this president," Doocy noted.
During the montage, it included clips of Doocy bringing up remarks from President Joe Biden dating back to 1981, to which Psaki responded, "Woah, time back machine."
"Does the White House think that 16 cents of a BBQ has more of an impact on people's lives than gas being a dollar more?" Doocy asked in July 2021. Psaki replied, "I would say if you don't like hot dogs, you may not care [about] reduction of cost. You don't have to like hot dogs."
Advertisement - story continues below
Check out the video below:
"I think so, yes," Doocy replied when asked if he would miss Psaki.
Psaki said during an event with Christian Science Monitor that she would miss Doocy.
"I will tell you, and people know this who are in the White House every day. I think we have a very good professional relationship," she also said.
Advertisement - story continues below
Psaki continued, "And I understand that he's coming there to ask questions every day that are important to report and the outlet he works for, and I respect that, and we have healthy debates and discussions."
Here are her comments below:
WH Press Sec. Jen Psaki says she'll miss Fox News' Peter Doocy:

"I understand that he's coming there to ask questions everyday that are important to report in the outlet he works for … Doesn't mean I agree with his line of questioning on most days." pic.twitter.com/YY6f7gdcDW

— The Recount (@therecount) May 12, 2022
Karine Jean-Pierre will be replacing Psaki as the new White House press secretary.
Advertisement - story continues below
However, the announcement of her stepping into the role has come with controversy.
This week, Psaki defended Jean-Pierre's previous comments about "stolen" elections and a resurfaced video showing Jean-Pierre calling Fox News racist., as IJR reported on.
"This is a years-old clip of Karine, referring to an opinion host – not a reporter – when she was not in government and not speaking on behalf of the president," Psaki told Mediaite.
She added, "As she has shown at the White House many times already, including in the Briefing Room, she will continue to follow the guidance of the President in engaging with a range of reporters from a broad range of outlets, including Fox, even when there are different points of view."
Truth and Accuracy
We are committed to truth and accuracy in all of our journalism. Read our editorial standards.
Comment Down Below
Conversation