News
Poll: Majority of Trump Voters Say 'It's Time to Split the Country'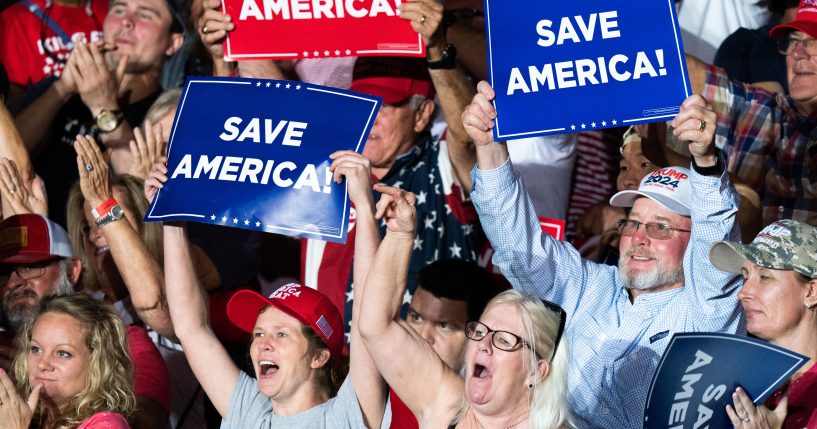 A poll shows the majority of Americans who voted for former President Donald Trump believe red states should secede from the union.
The survey, conducted by the Center for Politics at the University of Virginia, revealed "Roughly 4 in 10 (41%) of Biden and half (52%) of Trump voters at least somewhat agree that it's time to split the country, favoring blue/red states seceding from the union."
UVA Center for Politics Director Larry J. Sabato explained, "The divide between Trump and Biden voters is deep, wide, and dangerous. The scope is unprecedented, and it will not be easily fixed."
Advertisement - story continues below
The University of Virginia Center for Politics has partnered with Project Home Fire on the polling project "to explore the social, political, and psychological divides between those who voted for Donald Trump and those who voted for Joe Biden in 2020."
Larry Schack of Project Home Fire suggested, "In order to figure out ways to bridge these divides, we need to understand not just the divides themselves, but also understand the ways in which we can, together, move forward to reach common ground. This project helps us do both."
One key takeaway from the poll is majorities of Trump and Biden voters back several elements of the bipartisan infrastructure and reconciliation bills being considered by Congress.
Additionally, the poll points out majorities of both Trump and Biden voters "express some form of distrust for voters, elected officials, and media sources they associate with the other side."
Advertisement - story continues below
Earlier last month, a new Politico-Morning Consult poll found a majority of voters believe the country is headed in the wrong direction, as IJR previously reported.
According to the survey 61% of voters say things in the country have "pretty seriously gotten off on the wrong track" while only 39% of voters think the country is moving in the "right direction."
Is it time to "split the country"?
The president's approval rating has continued to decline, sliding from 54% in August to 50% currently, according to a new poll by The Associated Press-NORC Center for Public Affairs Research.
Truth and Accuracy
We are committed to truth and accuracy in all of our journalism. Read our editorial standards.
Conversation