News
Pope Suggests Getting Vaccinated Against COVID-19 Is a 'Moral Obligation'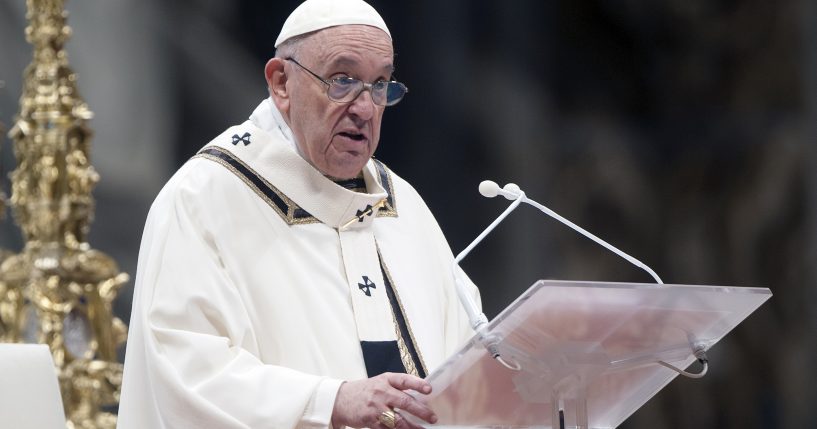 Pope Francis says the COVID-19 vaccine is "the most reasonable solution" for the prevention of the virus.
According to The Associated Press, Francis said in a speech Monday that individuals are responsible for taking care of themselves, "and this translates into respect for the health of those around us. Health care is a moral obligation."
He argued individuals are letting "themselves be influenced by the ideology of the moment, often bolstered by baseless information or poorly documented facts."
Advertisement - story continues below
The outlet noted Francis called "for the adoption of a 'reality therapy' to correct this distortion."
He continued, "Vaccines are not a magical means of healing, yet surely they represent, in addition to other treatments that need to be developed, the most reasonable solution for the prevention of the disease."
Francis stressed how important it is for everyone to have access to the vaccine.
"It is appropriate that institutions such as the World Trade Organization and the World Intellectual Property Organization adapt their legal instruments lest monopolistic rules constitute further obstacles to production and to an organized and consistent access to health care on a global level," he said.
Advertisement - story continues below
According to Bloomberg, more than 9.46 billion vaccine doses have been administered across 184 countries. In the United States, 519 million doses have been administered, as of Monday afternoon.
President Joe Biden previously declared the outbreak to be the "pandemic of the unvaccinated."
Do you agree that it is a "moral obligation"?
Following a briefing from his COVID-19 response team, Biden delivered remarks from the White House warning Americans about the Omicron variant of the virus.
"Omicron is a very transmissible, transmissible variant, but much different than anything we've seen before," Biden said. "You can protect yourself, and you should protect yourself, quite frankly. Get vaccinated, get boosted. There are plenty of booster shots. Wear a mask while you're in public."
The president acknowledged individuals could get COVID-19 even if they are vaccinated and boosted. Still, he said it is "highly unlikely" they will become "seriously ill."
Truth and Accuracy
We are committed to truth and accuracy in all of our journalism. Read our editorial standards.
Comment Down Below
Conversation