Post-Debate Polls Show Biden Came Out as the Winner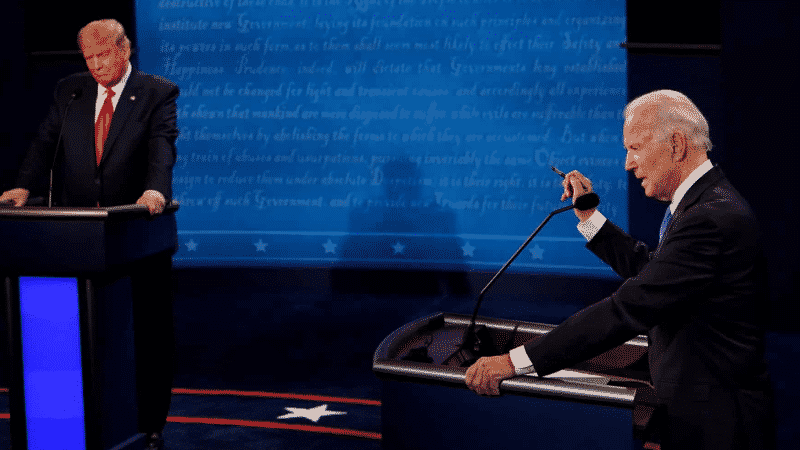 President Donald Trump and Democratic presidential nominee Joe Biden went head-to-head on Thursday night in the last presidential debate before the Nov. 3 election. It was a less chaotic debate compared to the first one, as a mute button allowed each candidate time to speak without being interrupted.
A few post-debate polls are showing Biden coming out of the debate with a win.
A CNN instant poll showed Biden garnered 53% of those who watched the debate, while 39% of respondents said Trump won. This is an increase for Trump, as 28% of the debate watchers said the president won the first debate.
On the issues, as CNN reports, "Thursday's debate watchers preferred Trump over Biden on the economy (56% say they think Trump would better handle it vs. 44% who say Biden would), and divided about evenly between the two on foreign policy (50% prefer Biden, 48% Trump). Biden held a wide edge as more trusted to handle the coronavirus (57% Biden to 41% Trump), climate change (67% Biden to 29% Trump) and racial inequality in the US (62% Biden to 35% Trump)."
Additionally, YouGov's snap poll showed a similar result to CNN. Fifty-four percent of the debate watchers said Biden won the debate, compared to 35% saying Trump won. Nine percent said there was a tie.
The poll also found that voters were split on if the final debate was mostly positive or negative in tone — 46% said it was positive while 43% said it was negative. The poll also showed that 37% of voters were optimistic after the debate while 33% were annoyed.
According to FiveThirtyEight, the latest polls show Biden in the lead nationally by 11 points.
However, Trump's re-election campaign insisted that the president won the debate, as his campaign manager Bill Stepien wrote in a statement, "President Trump completely unmasked Joe Biden as a Washington politician who is all talk and no action. … President Trump won this debate in a blowout and it's little wonder why Biden doesn't want to do any more."
But, Biden's campaign also declared the former vice president the winner, "Joe Biden won the first debate. He won the split-screen town hall debate after Donald Trump was too gutless to face him. And he just won the third debate -—not by a little, either. Meanwhile, Donald Trump squandered his last chance to offer any rationale for another four years."