News
Fed Chair Jerome Powell Suggests It Is Time to 'Retire' the Phrase 'Transitory' Regarding Inflation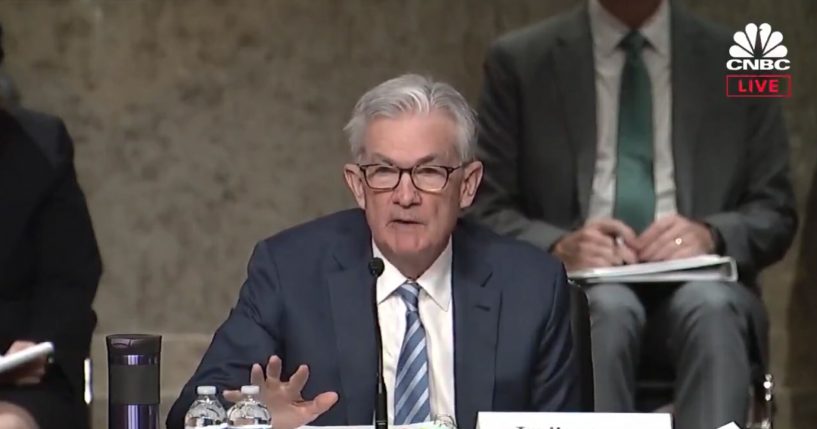 Federal Reserve Chairman Jerome Powell believes it is time to stop using the term "transitory" in reference to inflation.
During a Senate hearing on Tuesday, Sen. Pat Toomey (R-Pa.) noted that Powell believes inflation is "transitory."
"But everything is transitory. Life is transitory," he added before asking, "How long does inflation have to run above your target before the Fed decides maybe it's not so transitory?"
Advertisement - story continues below
Powell responded, "I think the word 'transitory' has different meanings to different people."
"To many, it is a sense of short-lived. We tend to use it to mean that it won't leave a permanent mark in the form of higher inflation. I think it's probably a good time to retire that word and try to explain more clearly what we mean," he added.
Watch the video below:
Fed Chair Jerome Powell says that "it's probably a good time to retire" referring to inflation as transitory. pic.twitter.com/nJ8q7evABF

— The First (@TheFirstonTV) November 30, 2021
Advertisement - story continues below
Inflation refers to the rate of the increase of the costs of good and services over a period of the time.
During the hearing, Powell maintained that he believe price increases will not be permanent, but he added that it "now appears that factors pushing inflation upward will linger well into next year."
He continued, "The recent rise in COVID-19 cases and the emergence of the Omicron variant pose downside risks to employment and economic activity and increased uncertainty for inflation. Greater concerns about the virus could reduce people's willingness to work in person, which would slow progress in the labor market and intensify supply-chain disruptions."
The price of consumer goods continued to increase in October, reaching a pace not seen in 30 years, as IJR reported.
According to data from the Labor Department, the consumer-price index, a measure of the prices consumers pay for goods and services, rose at its faster annual pace since 1990.
Advertisement - story continues below
In the past 12 months, prices rose 6.2%, and October marked the fifth month in a row that inflation was over 5%.
Powell noted that "pandemic-related supply and demand imbalances have contributed to notable price increases."
"Supply chain problems have made it difficult for producers to meet strong demand, particularly for goods. Increases in energy prices and rents are also pushing inflation upward," he added.
Finally, he said, "We are committed to our price-stability goal. We will use our tools both to support the economy and a strong labor market and to prevent higher inflation from becoming entrenched."
Truth and Accuracy
We are committed to truth and accuracy in all of our journalism. Read our editorial standards.
Comment Down Below
Conversation