News
Pro-choice Activists Vandalize 3 Texas Catholic Churches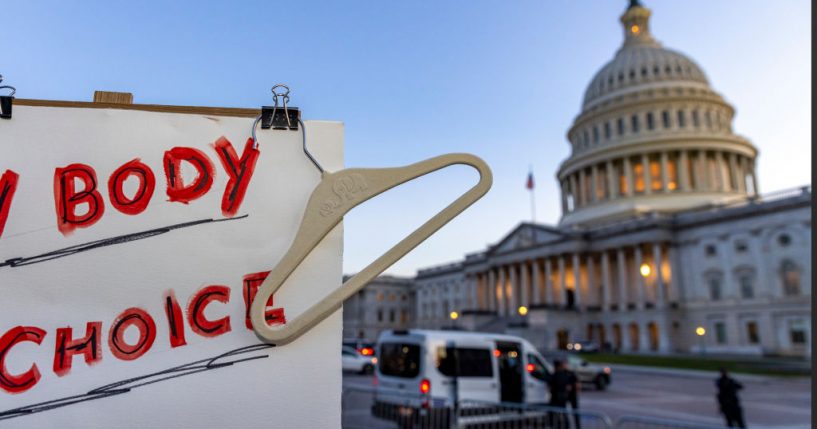 Pro-choice activists vandalized three Catholic Churches in Texas.
According to Fox News, a church member noticed the graffiti early Monday when they arrived for a meeting at 8 a.m.
The message written on the doors of the church's main entrance and side door read, "Pro-Choice is Pro-Life." 
Advertisement - story continues below
Father Peter Damian Harris, pastor at Holy Rosary Catholic Church in Houston, said, "It's very unfortunate that people would desecrate the church like this, take their frustration out on the church."
Fox 26 reported the church has changed its hours because of the incident.
The church will open 30 minutes before confession and mass.
It will then close right after.
Advertisement - story continues below
"It's very unfortunate, but I'd rather take the necessary precautions, then run the risk of someone coming to desecrate our sacred space," Harris said.
According to Harris, the vandalism at his church is connected to similar incidents that took place at two other Catholic Churches.
Do you think there will be more of this in the coming days?
"Most definitely, it's a result of the leak that came out last week, the Supreme Court," Harris said.
Harris told the outlet the two churches are located at St. Bartholemew and St Elizabeth Anne Seaton.
"At St. Bartholemew, they tried to remove the Tabernacle, which contains the sacred presence of Christ and the Eucharist. The other church, someone tried to desecrate the Eucharist," Harris explained.
Advertisement - story continues below
Sending a message to the vandal, Harris said, "I'd rather you come inside and pray and have a conversation, and not try to desecrate our sacred space. This won't stop us, it propels us to continue to be witnesses for Christ and the world."
Over the weekend, protesters wearing outfits from Margaret Atwood's "The Handmaid's Tale" entered a Catholic Mass, as IJR reported.
In case you missed it:
Marxists try to disrupt Mass at Cathedral of our Lady of the Angels. Security, ushers and parishioners said they were not having it.#cathedral #Catholic pic.twitter.com/HlN8yHxPKL

— Romangod7 (@Romangod7) May 8, 2022
Advertisement - story continues below
Yannina Diaz, a spokesperson for the Archdiocese of Los Angeles, said in a statement, "Demonstrations had been anticipated across the country."
She added, "The incident was handled accordingly by cathedral security ensuring limited disruption of Mass. We continue to join our prayers as an Archdiocese in solidarity with the US Catholic Bishops to pray for change in our laws to help all women in need in our communities."
Earlier this month, Politico published a leaked draft opinion showing the Supreme Court could overturn Roe v. Wade.
Truth and Accuracy
We are committed to truth and accuracy in all of our journalism. Read our editorial standards.
Comment Down Below
Conversation