News
Pro-choice Protesters Gather Outside of Pelosi's Home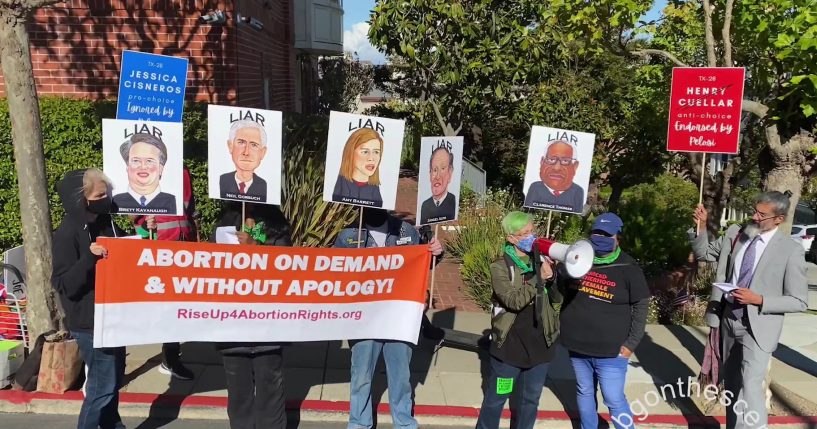 Pro-choice protesters gathered outside of House Speaker Nancy Pelosi's (D-Calif.) home, accusing her of being "complicit" with the "fascist Republican Party."
On Tuesday, the protesters joined together in front of her San Francisco residence.
"We're here because Nancy Pelosi and the whole leadership of the Democratic Party has been complicit, complicit with the fascist Republican Party that wants to not only eliminate abortion rights, but gay marriage, trans rights, and a whole slew of rights," a protester shouted using a bullhorn.
Advertisement - story continues below
Other protesters stood next to her holding a banner that stated, "Abortion on demand & without apology."
They also held up signs showing the faces of the five Republican Supreme Court justices who reportedly voted in favor of the draft opinion showing the court would overturn Roe v. Wade.
The word "liar" is shown over their heads.
One protester said, "Speaker Pelosi, this will be your legacy, 35 years of your reign of terror."
Advertisement - story continues below
He added, "You had a supermajority under [former President] Obama under which this should have been your top priority."
The protester asked, "Why did you keep this on the table? Because this is your most effective fundraising tool. That's why."
Are they showing "righteous" anger?
Happening now: Protesters for abortion rights are outside the San Francisco home of House Speaker Nancy Pelosi pic.twitter.com/qx9OiA8XPi

— Brendan Gutenschwager (@BGOnTheScene) May 11, 2022
He went on to criticize Pelosi for blaming "the Republicans," pointing out Democrats "control all three branches of government" at the moment, referencing the White House and both houses of Congress, as Fox News reported.
Additionally, the protester argued the possible overturning of Roe v. Wade is a "blatant war on women, and other trans – uterus-bearing individuals."
Advertisement - story continues below
The protest outside of Pelosi's home comes just one day after she praised protesters for expressing "righteous anger."
"While we have seen and heard extraordinary anguish in our communities, we have been moved by how so many have channeled their righteous anger into meaningful action: planning to march and mobilize to make their voices heard," Pelosi said in a letter penned to a "Democratic Colleague."
She said the draft ruling is a "culmination of Republicans' decades-long crusade against women's fundamental freedoms."
Pelosi added, "Make no mistake: once Republicans have dispensed with precedent and privacy in overturning Roe, they will take aim at additional basic human rights."
Advertisement - story continues below
She suggested, "At this pivotal moment, the stakes for women—and every American—could not be higher."
Truth and Accuracy
We are committed to truth and accuracy in all of our journalism. Read our editorial standards.
Comment Down Below
Conversation