News
Prop Master Explains Safety Protocols Behind Prop Guns Following Baldwin Prop Gun Shooting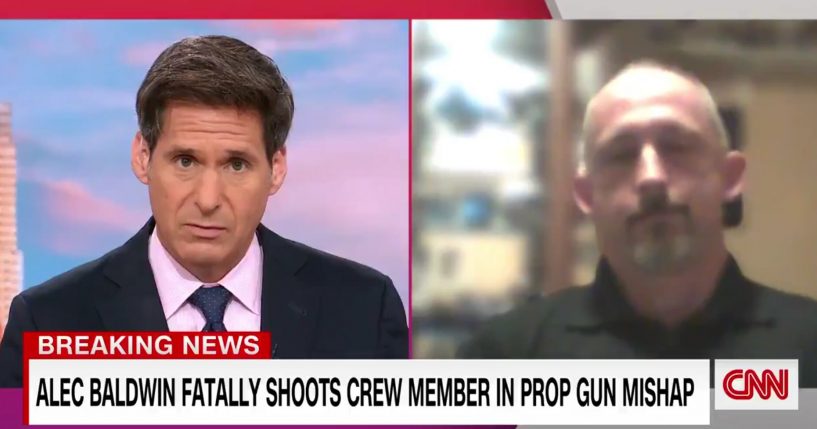 A prop master explained how prop guns can be dangerous after actor Alec Baldwin fired one on the set of a movie, killing one film crew member and injuring another.
Joseph Fisher joined CNN for an interview on Friday following the shooting. Host John Berman noted Fisher is "a prop master who works on movie sets. He's also handled weapons in the military and with the NYPD."
Berman asked Fisher how prop guns work and how they are supposed to be kept safe.
Advertisement - story continues below
Fisher responded, "In the film business, we take extreme caution with any kind of weapons."
He continued, "Typically we will do a safety brief with the cast and crew. We'll introduce the weapon to the cast and crew. We'll let them examine it. We'll explain safety precautions that go with each type of prop weapon."
According to Fisher, "In this case, it was a blank firing weapon and with that there are inherent risks."
He went on to tell Berman "prop weapons do have a dangerous factor to them, even though they're a lot safer than using a live firearm on set."
Advertisement - story continues below
Fisher suggested there was a mishap on set at "some point" and safety precautions were not followed in that moment.
Watch his comments below:
Alec Baldwin fired a prop gun that killed a cinematographer and injured a director. @JohnBerman spoke with a prop master on movie sets about the safety protocols that are designed to avoid tragedies like this one. pic.twitter.com/2hO6MPvHIN

— Brianna Keilar (@brikeilarcnn) October 22, 2021
Berman then asked Fisher, "What can come out of a blank gun, if a prop gun is supposed to only have blanks, how is it then that something could come out of it, a projectile?"
The prop master replied, "Anytime you are dealing with a gunpowder load, which is what's in a prop weapon that fires blanks, you're going to have gas, you're going to have heat, you're going to have air coming out of it. Even though there's no actual physical projectile mounted on the front of that weapon… there is projectiles that do come out."
Advertisement - story continues below
He continued, "Those can cause physical injury within 25 to 50 feet depending on the load."
Sheriff's spokesman Juan Rios said in a statement the "investigation remains open and active," adding, "No charges have been filed in regard to this incident. Witnesses continue to be interviewed by detectives."
Truth and Accuracy
We are committed to truth and accuracy in all of our journalism. Read our editorial standards.
Comment Down Below
Conversation