News
Protester Suggests Barrett Does Not Know What It Is Like to Give Birth Despite Having 5 Biological Kids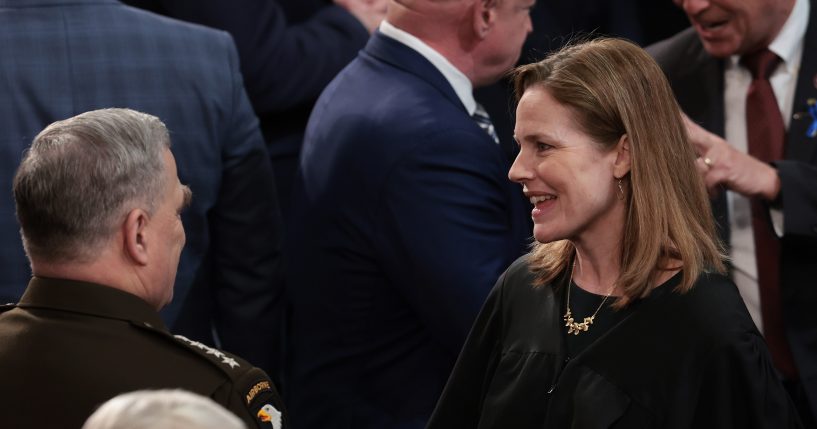 A pro-choice protester demonstrated outside of Supreme Court Justice Amy Coney Barrett's home and suggested she does not know what it is like to be pregnant despite having five biological children.
Fox News obtained a video of the protester wearing a "Handmaid's Tale" outfit marching outside of Barrett's home in Falls Church, Virginia.
"It's also possible that the fact that she's an adoptive mother is influencing her inability to see what it's like to carry a pregnancy to term," the protester said.
Advertisement - story continues below
It was then pointed out to the protester that Barrett has had five biological children.
"Not everybody wants to have five kids or four kids or one kid," the protester responded.
Another protester chimed in, saying, "We have no issue with Catholicism."
They explained, "However, in this country, there's a separation of church and state. So somebody's religion, no matter what that might be, cannot dictate how they carry out their job as a public official."
Advertisement - story continues below
Check out the video below:
One of Barrett's neighbors, a woman named Julie, told the outlet the family is "scared, and they wanted prayers."
Advertisement - story continues below
She continued, "The whole neighborhood's been supportive of that."
Earlier this week, White House Press Secretary Jen Psaki reacted to protests happening outside of the justices' homes in response to a leaked opinion that shows the court would overturn Roe v. Wade, as IJR reported.
"[President Joe Biden] strongly believes in the Constitutional right to protest," Psaki tweeted.
She added, "But that should never include violence, threats, or vandalism. Judges perform an incredibly important function in our society, and they must be able to do their jobs without concern for their personal safety."
Advertisement - story continues below
On Wednesday, The Washington Post noted the protests appear to be illegal.
The outlet mentioned a statute enacted in 1950 called Title 18, Section 1507, of the U.S. Code.
The law says it is illegal, "with the intent of influencing any judge," to: picket or parade "in or near a building or residence occupied or used by such judge, juror, witness, or court officer" "or with such intent," to resort "to any other demonstration in or near any such building or residence."
Truth and Accuracy
We are committed to truth and accuracy in all of our journalism. Read our editorial standards.
Comment Down Below
Conversation