News
Psaki: Biden 'Very Concerned' by Supreme Court's Ruling on Texas Law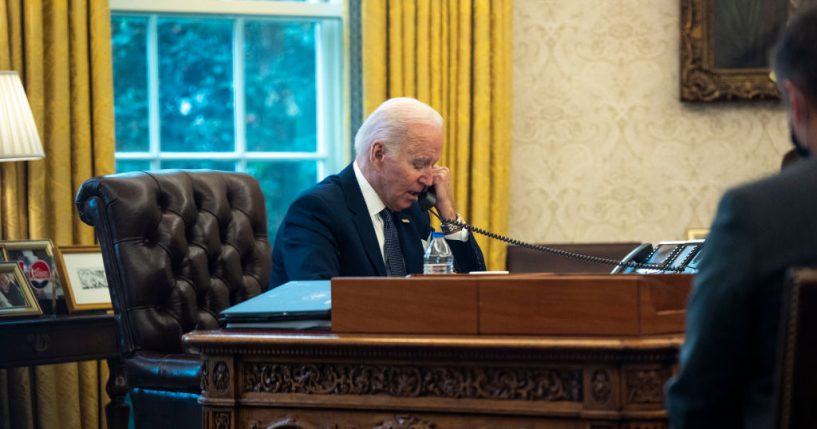 White House Press Secretary Jen Psaki says President Joe Biden is "very concerned" by the Supreme Court's ruling on a Texas law banning all abortions after six weeks.
On Friday, the Supreme Court said abortion providers could move forward and challenge the law in federal court. Still, the court decided not to block the law in the meantime.
Psaki said during a White House press briefing, "The president is very concerned by the Supreme Court's decision allowing SB 8 to remain in effect given the consequences the law has for women in Texas and around the country and for the rule of law."
Advertisement - story continues below
She explained Biden is "deeply committed to the constitutional right recognized in Roe v. Wade. And he has argued and advocated, in the past, for codifying Roe through passing the Women's Health Protection Act."
Psaki continued, "The ruling this morning is a reminder of how much these rights are at risk."
She noted the Department of Health and Human Services announced a department-wide response to protect both patients and providers in response to the law.
Watch part of the press briefing below:
Advertisement - story continues below
Biden is "very concerned" by the Supreme Court's ruling to leave in force Texas' ban on abortion, Psaki says https://t.co/XwCaR3S01s pic.twitter.com/vitCkOFVjq

— Bloomberg Quicktake (@Quicktake) December 10, 2021
Chief Justice John Roberts voiced his frustration with the law.
"The clear purpose and actual effect of SB 8 has been to nullify this Court's rulings," Roberts wrote. "It is, however, a basic principle that the Constitution is the 'fundamental and paramount law of the nation,' and '[i]t is emphatically the province and duty of the judicial department to say what the law is.'"
Justice Sonia Sotomayor called the ruling a "dangerous departure from its precedents, which establish that federal courts can and should issue relief when a State enacts a law that chills the exercise of a constitutional right and aims to evade judicial review."
The law went into effect in Texas in September and was later upheld by the court.
Truth and Accuracy
We are committed to truth and accuracy in all of our journalism. Read our editorial standards.
Comment Down Below
Conversation