News
Watch: Psaki Asked if Biden's COVID Vaccine Mandate Is an Attempt To Save His Falling Poll Numbers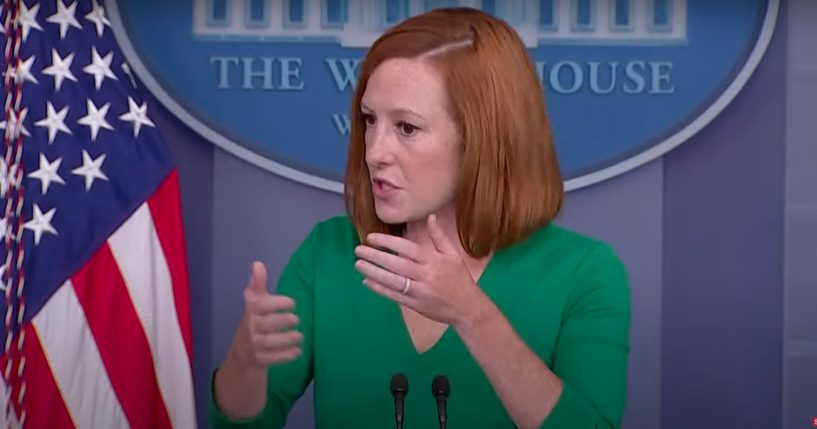 White House Press Secretary Jen Psaki says that President Joe Biden's new COVID-19 vaccination mandate is not an attempt to boost his approval ratings.
On Thursday, hours before Biden announced the new mandate, NBC News' Peter Alexander said, "As the White House knows well, the President's poll numbers have dropped, according to polls from a variety of different outlets right now." 
He asked, "Do you acknowledge that the public now has some doubts about the President's handling of the virus? And is today's announcement, in some ways, an effort to try to right that?"
Advertisement - story continues below
"This is not a political speech, and it's certainly not about poll numbers. What we can acknowledge — and you've seen in a lot of these polls — is that the number-one issue, number-two issue, number-three issue for many Americans is COVID and what we're doing," Psaki responded.
She continued, "And we have done a lot of work over the last couple of months, even as we've had conversations and talked about a range of other issues — whether it's Afghanistan or Build Back Better or other issues — in this room and in many forms of media we engage with. So it's an acknowledgement of that."
Finally, Psaki said, "I'll also note that in all of these polls, support for the President's handling of coronavirus continues to be the majority of the American public, and that hasn't changed."
There were reports ahead of the speech that Biden would announce a vaccine mandate.
Advertisement - story continues below
Watch the video below:
On Thursday, Biden announced new COVID-19 vaccine requirements for millions of workers, as IJR reported.
While Biden's approval rating has mostly stayed above 50% since he took office, it dipped amid the surge in coronavirus cases and criticism of the execution of the withdrawal from Afghanistan.
FiveThirtyEight's approval rating tracker shows that 47.9% of Americans disapprove of Biden's job performance while 45.3% approve.
Truth and Accuracy
We are committed to truth and accuracy in all of our journalism. Read our editorial standards.
Conversation