News
Psaki Defends Fauci Following Report of the US Funding Coronavirus Research at Wuhan Lab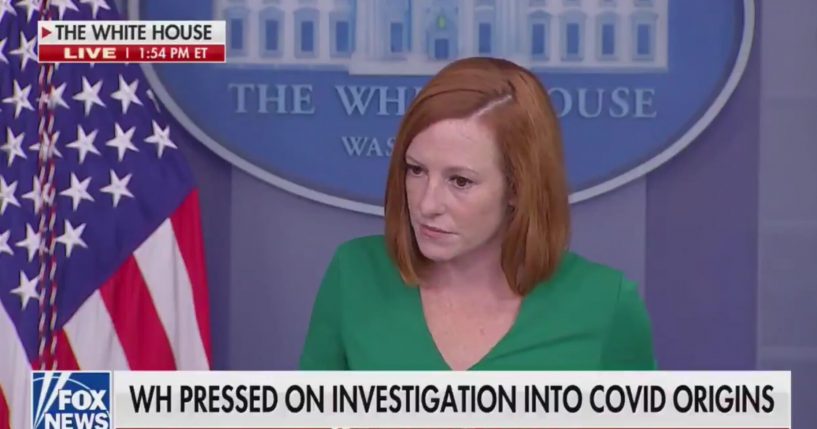 White House Press Secretary Jen Psaki defended Dr. Anthony Fauci after being pressed about documents showing U.S. grants funded COVID-19 research at the Wuhan lab in China.
During a White House press briefing on Thursday, Fox News's Peter Doocy asked Psaki if it is still true that President Joe Biden would never fire Fauci since he "told Congress the NIH never funded gain of function research for coronaviruses in Wuhan but documents published by The Intercept suggest that is not true which would mean that he misled Congress."
Noting the National Institutes of Health (NIH) refuted report, Psaki explained, "NIH has never approved any research that would make a coronavirus more dangerous to humans. A reminder that there are previous and different coronaviruses than the existing one we're battling."
Advertisement - story continues below
She continued, "The body of science produced by this research demonstrates that the bat coronavirus sequences published from that work NIH supported were not covid, the strain, the Covid-2 strain, so what he said was correct."
Watch part of the press briefing below:
Peter Doocy asks Jen Psaki if Biden is considering firing Dr Fauci pic.twitter.com/Ta4BgnyEky

— Aaron Rupar (@atrupar) September 9, 2021
Doocy then asked Psaki, "So his job is safe?"
Advertisement - story continues below
She replied, "Correct."
The Intercept obtained documents "detailing the work of EcoHealth Alliance, a U.S.-based health organization that used federal money to fund bat coronavirus research at the Chinese laboratory."
Others are demanding Fauci face consequences for lying to Congress, including Sen. Rand Paul (R-Ky.).
Paul told Fox News Wednesday night, "It's a felony punishable by five years in jail."
He added, "I don't think Biden Department of Justice will do anything with it, but … it is very dangerous to have public officials who we need to have trust in coming and lying to us. But he has lied dozens of times. Usually he tells us it's for our own good."
Advertisement - story continues below
The senator also tweeted he was "right about his agency funding novel Coronavirus research at Wuhan."
Truth and Accuracy
We are committed to truth and accuracy in all of our journalism. Read our editorial standards.
Comment Down Below
Conversation