News
Psaki Insists WH Needs Fox News To Help Counter Vaccine Misinformation and Boost Vaccination Rates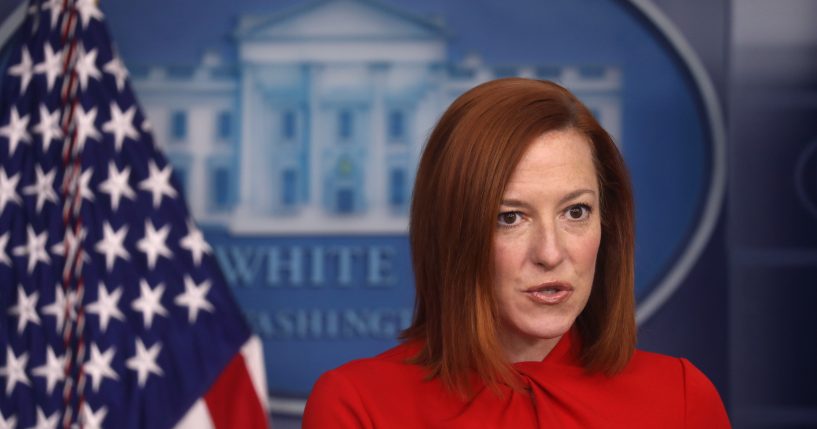 White House Press Secretary Jen Psaki has sparred with Fox News reporters during her time at the podium, but she believes that the network is crucial to helping fight misinformation about the COVID-19 vaccines.
During an interview on Snapchat's news program "Good Luck America," Psaki was asked by host Peter Hamby asked why Democrats should "engage with Fox News."
"Well, first we don't do a lot of the personalities on Fox," Psaki responded as she noted that President Joe Biden's "number one goal still is beating the pandemic."
Advertisement - story continues below
She continued, "Our objective is to put people back to work, and we need to talk to Fox and Fox viewers in order to do that. Now, they are not waiting for the president, the vice president, me, other people from the administration to tell them what to do, but they might listen to medical experts or some of our doctors, they might. There might be information that strikes them because it's so fact-based, if we convey it to Fox, that they may hear that." 
Psaki went on to explain that she does not find it helpful to get "in a fight with Fox News at this point in time."
"And I think our view at this moment is we don't have to approve — we don't — of everything they do editorially, of everything their personalities say and do, but it is still a platform for us to communicate with the public. And frankly, the other piece of it is getting in a fight with Fox News at this point in time for the administration isn't particularly constructive coming off of an administration that completely destroyed trust in media, trust in institutions. That's not the fight we want to fight right now, right? We want to fight a fight about getting the pandemic under control and things that actually impact people's lives."
Watch the interview below:
Advertisement - story continues below
While Fox News was heavily criticized since the early days of the pandemic and accused of spreading misinformation about the virus and the vaccines, several personalities made news last week after they urged people to get vaccinated or at least take the pandemic "seriously."
Should Fox News hosts be encouraging vaccinations?
Fox News' Steve Doocy encouraged people to get vaccinated last week as he said, "If you have the chance, get the shot. It will save your life."
And the network's Sean Hannity also urged people to "please take COVID seriously."
"It absolutely makes sense for many Americans to get vaccinated. I believe in science. I believe in the science of vaccination," he added.
Advertisement - story continues below
However, Hannity later said he did not urge viewers to get vaccinated and would not "dispense medical advice without a license."
Still, Biden said during a CNN town hall last week that "it's good" that some Fox personalities had an "altar call" and were urging people to get vaccinated.
Fox News personalities had been encouraging viewers to get the vaccine since February, months before the network received coverages for its hosts encouraging people to get vaccinated.
Truth and Accuracy
We are committed to truth and accuracy in all of our journalism. Read our editorial standards.
Conversation