News
Psaki Says Gov't Assessing the 'Threat Environment' of US Trucker Convoy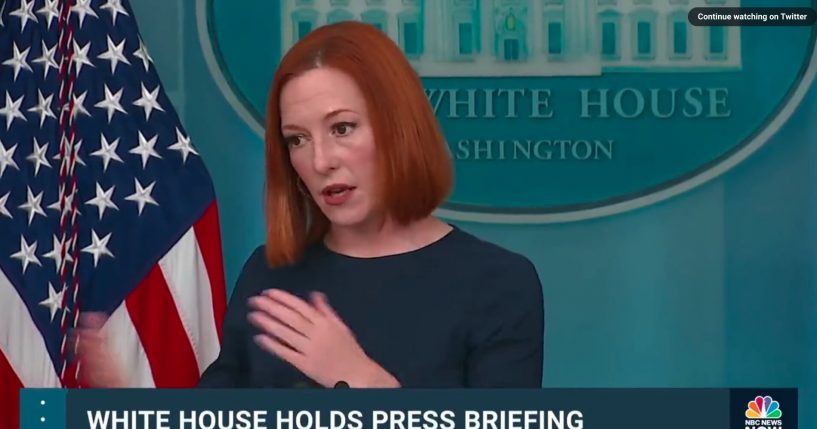 White House Press Secretary Jen Psaki says the U.S. is "closely" monitoring reports that a trucker convoy is headed to Washington, D.C. to protest COVID-19 restrictions.
During a press briefing on Tuesday, Psaki said, "We've actually been monitoring this closely. The Department of Homeland Security and the administration are tracking reports of a potential convoy that may be planning to several U.S. cities including Washington, D.C."
"We have been working…closely with our state and local partners to continuously assess the threat environment and keep our communities safe. And our efforts include enhanced intelligence sharing and a critical incident response plan for the U.S. Capitol, a regional security assessment and simulation experiment that developed data-driven recommendations to bolster regional security," she added.
Advertisement - story continues below
Watch the video below:
Jen Psaki Says Biden Admin 'Closely' Watching U.S. Trucker Protest, Assessing 'Threat Environment' https://t.co/el9TKP2ws5 via @mediaite pic.twitter.com/7zJziSBHLz

— Tommy moderna-vaX-Topher (@tommyxtopher) February 23, 2022
Psaki's comments come amid reports that the nation's capital could soon see protests similar to what Canada experienced when demonstrators shut down streets and border crossings.
Bob Bolus told Fox 5, an organizer of one of the convoys of truckers heading to Washington, D.C, "We will be along the Beltway where the Beltway will be shut down."
Advertisement - story continues below
He continued, "I'll give you an analogy of that of a giant boa constrictor that basically squeezes you, chokes you, and it swallows you, and that's what we're going to do to D.C."
"There will be a lane open for emergency vehicles, they'll be able to get in and out and all that," Bolus added. "We will not compromise anybody's safety or health, one way or the other. As far as if they can't get to work, geez, that's too bad."
Do you support this convoy?
Earlier this month, a bulletin from the Department of Homeland Security said the agency "has received reports of truck drivers planning to potentially block roads in major metropolitan cities in the United States in protest of, among other things, vaccine mandates for truck drivers."
"While there are currently no indications of planned violence, if hundreds of trucks converge in a major metropolitan city, the potential exists to severely disrupt transportation, federal government operations, commercial facilities, and emergency services through gridlock and potential counterprotests," it added.
Although there were not reports of widespread reports of violence during the protests in Canada, U.S. officials have been warning about what they say is a growing domestic terrorism threat. Security concerns after the Jan. 6 riot led to the building being surrounded by protective fencing for six months last year.
Advertisement - story continues below
However, the fencing will be reinstalled around the Capitol ahead of President Joe Biden's Mar. 1 State of the Union address as law enforcement prepare for a potential trucker protest.
Truth and Accuracy
We are committed to truth and accuracy in all of our journalism. Read our editorial standards.
Comment Down Below
Conversation