News
Psaki: Harris 'May' Visit the Border 'At Some Point'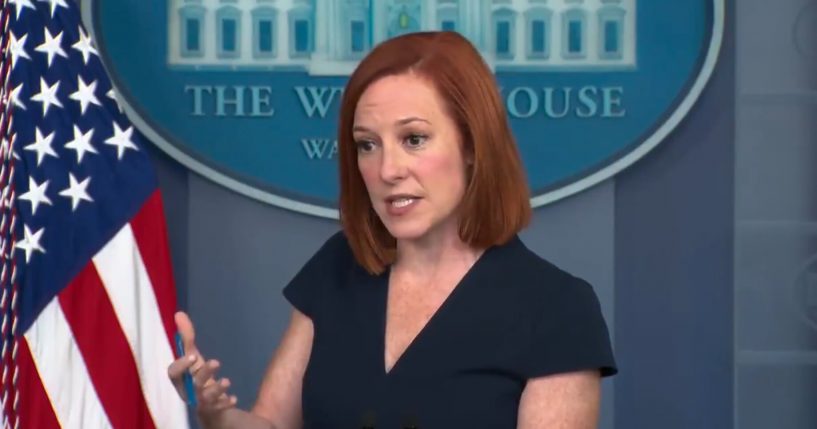 White House Press Secretary Jen Psaki says Vice President Kamala Harris "may" visit the U.S.-Mexico border sometime.
During a press briefing on Tuesday, Psaki was asked by Fox News' Peter Doocy about Harris' statement that "we've been to the border," when she has not visited the border since being tapped to help stem the flow of migration.
"Well, as the vice president, she does speak for the actions of the people in the administration… I expect that sometime she may go to the border," Psaki responded.
Advertisement - story continues below
She added, "But, as you know, what her focus has been, what the assignment is specifically is to work with leaders in the Northern Triangle. She's on a trip doing exactly that, exactly what the president asked her to do."
Doocy noted that Harris' main focus is on addressing the root causes of migration and asked if "somebody" in the White House decided "that it would not be helpful for her to go to the border and talk to people who just migrated here."
"Well, again I think that at some point she may go to the border, we'll see. But she's in the Northern Triangle now to have discussions with leaders, with community leaders, with civil society leaders, with the embassy about how we can work together," Psaki said.
Watch the video below:
Advertisement - story continues below
Watch Jen Psaki respond to Fox News' obsession with VP Harris going to the border in this exchange with reporter Peter Doocy pic.twitter.com/i2k6Yy675x

— NowThis (@nowthisnews) June 8, 2021
In her first foreign trip as vice president, Harris visited Guatemala and Mexico to meet with the leaders of the nations as part of her mission to try to stem the flow of northern migration.
While she was in Guatemala on Monday, she was asked why she did not visit the border. She said, "I came here… to speak with the leader of this nation around what we can do in a way that is significant, is tangible, and has real results. And I will continue to be focused on that kind of work as opposed to grand gestures."
And during an interview with NBC News' Lester Holt, she was asked if she plans to visit the border. She said, "I – at some point – you know – we are going to the border. We've been to the border. So this whole – this whole – this whole thing about the border. We've been to the border. We've been to the border."
"You haven't been to the border," Holt retorted.
Advertisement - story continues below
Harris said, "I haven't been to Europe. And I mean, I don't – I don't understand the point that you're making. I'm not discounting the importance of the border."
She also said, "I care about what's happening at the border."
Republicans have tried to cast Harris as the border "czar." However, CNN reports that "Harris and her aides have emphasized internally that they want to focus on conditions in Central America that push migrants to the U.S. southern border, as President Joe Biden tasked her to do."
Truth and Accuracy
We are committed to truth and accuracy in all of our journalism. Read our editorial standards.
Conversation