News
Psaki Explains What It Will Take for the US To Recognize Taliban As Government of Afghanistan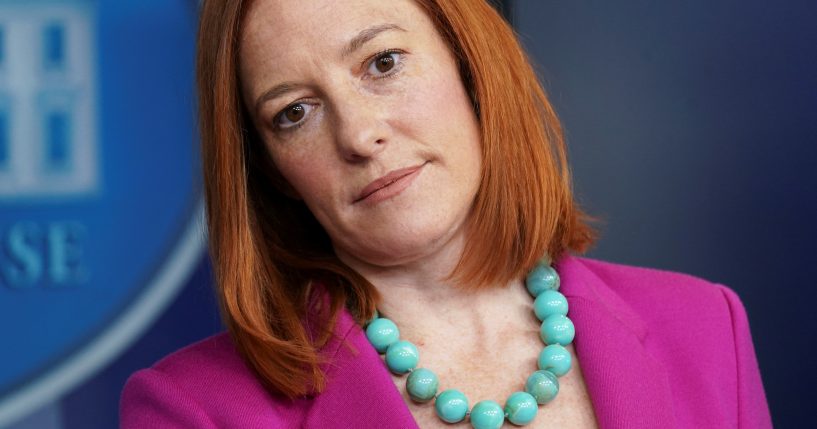 White House Press Secretary Jen Psaki was pressed about when the Biden administration will recognize the Taliban as the government of Afghanistan.
She told reporters, "There's no rush to recognition, it is really going to be dependent on what steps the Taliban takes. The world will be watching. The United States included and they will be watching whether they allow for American citizens, and citizens of other countries, depart, whether they allow individuals who want to leave the country to leave.
Psaki continued, "Whether they allow for humanitarian assistance to travel, how they treat women and girls around the country. I don't have a timeline for you, depends on what behavior they exhibit on the ground."
Advertisement - story continues below
Listen to Psaki's comments below:
The president was asked on Monday if he would recognize the Taliban. He replied, "That's a long way off. That's a long way off."
Asked whether the United States would recognize the Taliban, President Joe Biden told reporters at the White House: 'That's a long way off' https://t.co/MGKVYodSt3 pic.twitter.com/HEwRrhnjnY

— Reuters (@Reuters) September 7, 2021
Advertisement - story continues below
On Tuesday, the Taliban established an acting government, as The Washington Post reports. According to the outlet, the Taliban did not include women or members of Afghanistan's former government. They said permanent leadership will be announced soon.
The announcement comes just one day after the group declared victory in Afghanistan's Panjshir province. Taliban spokesman Zabihullah Mujahid said, "The last nest of the enemy, Panjshir province, was completely conquered."
Should the administration recognize the Taliban?
He added, "We assure the honorable people of Panjshir that they will not face any discriminatory treatment. They are all our brothers, and we will work for one country and one common goal. With the recent efforts and this victory, our country is completely out of the vortex of war."
During a news conference, Mujahid explained the province "which was the last place of our enemy has been cleared completely last night," as CNN reported.
Mujahid said there were no civilian casualties over the past few days and claimed all weapons were captured.
Truth and Accuracy
We are committed to truth and accuracy in all of our journalism. Read our editorial standards.
Comment Down Below
Conversation