News
'QAnon Shaman' Suggests Media Made Him 'The Face' of Jan. 6 Riot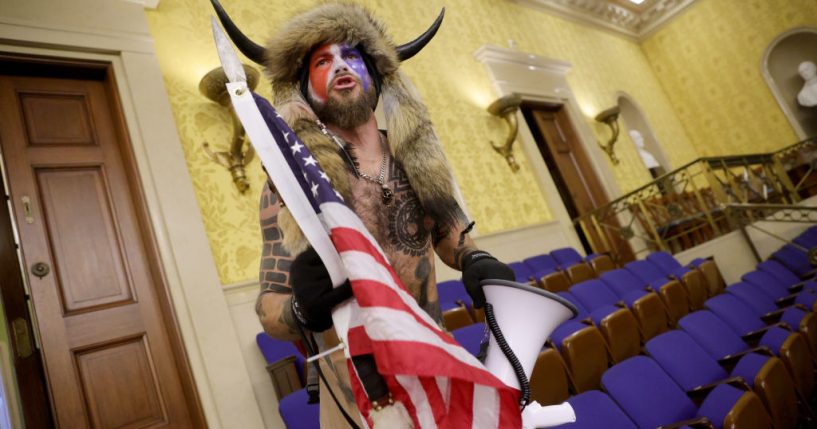 Jacob Chansley, also known as the "QAnon Shaman," is accusing the media of making him "the face" of the January 6 riot at the U.S. Capitol.
During an interview with Inside Edition, Lisa Guerrero explained, "You're a grown man. You chose to go to the Capitol that day. Many people look at you as the face of January 6 and are appalled."
She asked Chansley, "What is your response to those people?"
Advertisement - story continues below
He replied, "As far as being 'the face,' that's something that the media made me. I didn't make myself anything."
Chansley spoke to Guerrero from inside an Oklahoma prison.
When asked how he is doing, Chansley responded, "Considering the fact that I'm not in solitary confinement anymore, I'm better than I was when I was in solitary."
Chansley told the host one of the things he regrets about that day is "not working to ensure that there was far more peace on that day."
Advertisement - story continues below
He continued, "Had I known what was going to happen, I would have stepped in before any barricades were breached."
Claiming he tried to "calm the crowd," Chansley added, "But it just didn't work."
'QAnon Shaman,' Who Carried Spear and Howled Amid Capitol Assault, Says He Tried Unsuccessfully to Calm Crowd https://t.co/kD4MdLnbif

— Inside Edition (@InsideEdition) January 5, 2022
Additionally, Guerrero spoke with Chansley's mother.
"He was invited to go to the Capitol, so he went," Martha Chansley said.
Advertisement - story continues below
Guerrero then asked her, "Who invited him?"
Martha Chansley told her, "Well, President Trump invited everybody to go there."
In November, Chansley was sentenced to 41 months in prison for his role in the riot. He opened up about how his time in jail has affected him.
"The hardest part about this is to know that I'm to blame. To have to look in the mirror and know, you really messed up. Royally," Chansley said.
Advertisement - story continues below
He continued, "I was in solitary confinement because of me. Because of my decision. I broke the law … I should do what Gandhi would do and take responsibility. There's no ifs, ands or buts about it, that's what men of honor do."
Truth and Accuracy
We are committed to truth and accuracy in all of our journalism. Read our editorial standards.
Comment Down Below
Conversation