Commentary
Randi Weingarten Ripped to Shreds After 4-Word Post About Jews Praying Outside the White House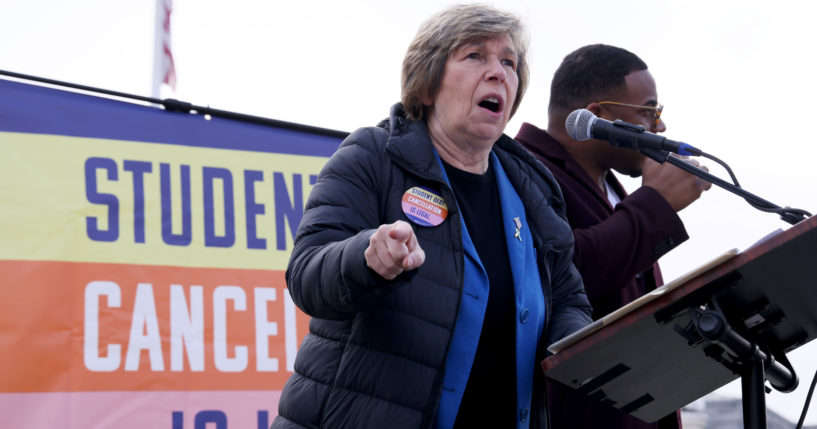 Whoever is managing American Federation of Teachers President Randi Weingarten's social media presence should probably be replaced.
And if Weingarten is really crafting her own posts on X, she should take a break from social media for… ever.
Earlier this week, she got roasted after sharing a story about the rise in homeschooling. And on Tuesday, she shared a post from Fox News' Mark Levin of Orthodox Jews praying outside the White House and asked four words, "Where are the women?"
Advertisement - story continues below
Where are the women? https://t.co/PgmjOaDcsI

— Randi Weingarten 🇺🇦🇺🇸💪🏿👩‍🎓 (@rweingarten) November 14, 2023
A community note pointed out that Orthodox Jews are traditionally separated by gender during prayer, and there were women praying as well but they were not seen in that video.
Once again, Weingarten was thoroughly criticized for her comment:
How is it that the face of public education in America seems to know almost nothing about every subject imaginable? https://t.co/WX36Nwd6tG

— AG (@AGHamilton29) November 15, 2023
Advertisement - story continues below
What an ignorant tweet. This is embarrassing even for you. https://t.co/MQ7X4BvDuk

— Chaya Raichik (@ChayaRaichik10) November 15, 2023
There were probably 150,000 women there, apparently not counting you, since you were busy trying to continue the destruction of our educational system while having a nice acai bowl. https://t.co/lgClRDntlm

— John Podhoretz (@jpodhoretz) November 15, 2023
If Randi Weingarten were trying to sabotage her reputation, what exactly would she do differently? https://t.co/vqqSICVQqr

— Charles C. W. Cooke (@charlescwcooke) November 15, 2023
This woman is a complete idiot https://t.co/MXnBGA5Lrs

— Ben Shapiro (@benshapiro) November 15, 2023
Holy shit. https://t.co/DmhpJ9hz8n

— Noam Blum 🚡 (@neontaster) November 15, 2023
Advertisement - story continues below
What is a woman? https://t.co/VjQ5TlCfRU

— Kassy Dillon (@KassyDillon) November 15, 2023
She's married to a rabbi, btw, just to put this dumbass comment in context https://t.co/SLKUdrgEYQ

— Jen Monroe (@thatjenmonroe) November 15, 2023
I can't believe this is a real tweet by someone even remotely connected to education. (I also can't believe it's still up after 8 hrs.) https://t.co/fXQpTMag2n

— LB (@beyondreasdoubt) November 15, 2023
I love that Randi is literally MARRIED TO A RABBI and she's getting Community Noted about the separation of genders in Orthodox Jewish prayers. Durrr. https://t.co/6gjMHRjMJn pic.twitter.com/nDmdhqA4GT

— Cecelia (@Ceceliaism) November 15, 2023
Advertisement - story continues below
The charitable view of Weingarten's post is that she is so ignorant and steeped in progressive ideology and DEI that she sees a bunch of men and has an automatic, gut reaction to ask, "Where are the women?"
And the darker view of the situation is the video upset her for some reason and she was trying to borrow from conservatives — who like to ask the same question when they see images of mobs of people crossing the U.S.-Mexico border illegally — to criticize Jews for praying and suggest they shouldn't be there.
Weingarten has called herself a "deeply religious" Jew so perhaps she should know Orthodox Jews do not pray with women and the lack of women shouldn't be a question. And no one should try to judge someone's faith or heart simply by their social media posts. So jumping to the latter conclusion without further evidence isn't wise.
Regardless if you see a day where hundreds of thousands of people, conservative and liberal, show up to show support for Jewish people after a barbaric terrorist attack and as acts of antisemitism are on the rise, and your response is to desperately find something to criticize, you're doing life wrong.
Truth and Accuracy
We are committed to truth and accuracy in all of our journalism. Read our editorial standards.
Comment Down Below
Conversation