News
Rapper Offset Pays Tribute to Fellow Migos Member Takeoff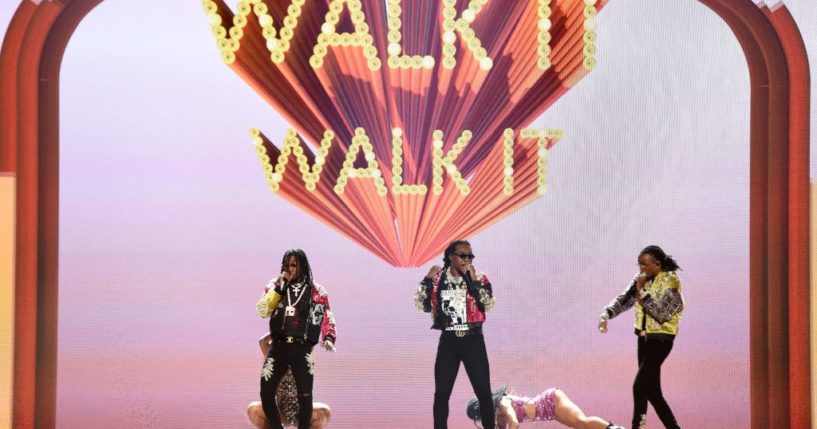 Rapper Offset has spoken out after the death of his cousin and fellow Migos member Takeoff.
Offset took to his Instagram on Monday to pay tribute to him.
"My heart is shattered and I have so many things to say, but I can't find the words," he wrote. "I've been going to sleep and waking up hoping that all of this is a dream, but it's reality, and reality feels like a nightmare."
Advertisement - story continues below
He continued to write that he wishes he could hug, laugh, smoke, and perform with him "one last time."
"I know someone with a soul like yours is in heaven now. I hope you can see how much we love you and miss you. You have left a hole in my heart that will never be filled," he added.
Offset also asked Takeoff to give him and his family strength.
"Even though I know you will always be with us, throw me a lil sign or a beautiful dream. I love you forever, 4L and after," he concluded, sharing various photos of him with Takeoff. 
Advertisement - story continues below
Takeoff, whose real name is Kirsnik Khari Ball, was shot and killed on Nov. 1 at a bowling alley in Houston. He was 28 years old.
A spokesperson for the Houston Police Department told reporters that his death is still being investigated.
"That's when the shooting occurred … We are still in the process and early stages of this investigation, trying to gather all the information we can, and we are looking to the public's help," the spokesperson said in a press conference.
Continuing, the spokesperson said, "I can tell you there are rappers at the party. I don't know if they are involved in the shooting, but like I said, it's still the early process of the investigation."
Advertisement - story continues below
The group Migos was formed in 2008 and was nominated twice for "Best Rap Performance" at the 60th Annual Grammy Awards in 2018.
Truth and Accuracy
We are committed to truth and accuracy in all of our journalism. Read our editorial standards.
Comment Down Below
Conversation