News
Joy Reid Defends Being Hesitant About COVID Vaccine While Trump Was in Office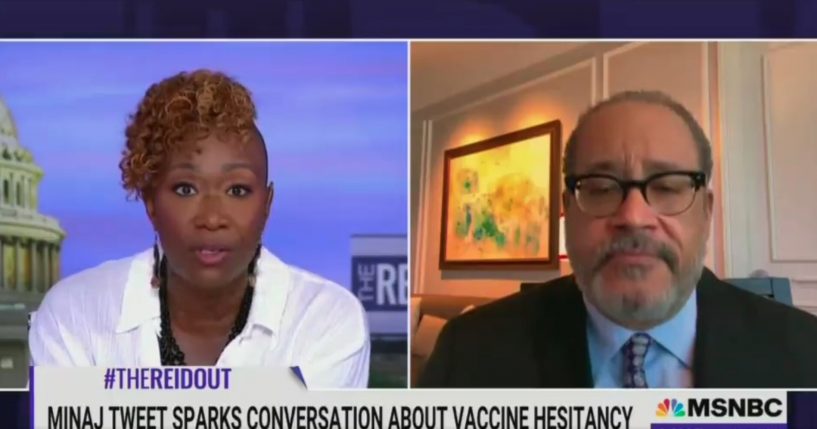 MSNBC's Joy Reid says anybody "rational" would have been hesitant about the COVID-19 vaccine while former President Donald Trump was in office.
During a segment of her show on Thursday, Reid said, "I understand the hesitancy. Listen, I was hesitant when Donald Trump was out there controlling the CDC and controlling the FDA and manipulating them and making them put out falsehoods, anybody rational was hesitant."
"But the reality is now, what I really fear is more masses of people dying. Six hundred and sixty-six thousand people have died, and disproportionately they look like you and me, Michael. And what scares me is that people are creating a cultural imperative to set themselves up for death," she continued.
Advertisement - story continues below
Reid continued to criticize commentators who are "pushing" people to be hesitant about the vaccine while they are "vaccinated and safe."
Watch the video below:
Joy Reid again defends her belief that it was NECESSARY to be anti-vaxxer when Trump was in office: "I was hesitant. When Donald Trump was out there controlling the CDC & controlling the FDA & manipulating them & making them put out falsehoods, anybody rational was hesitant." pic.twitter.com/dBFT8lTvWw

— Curtis Houck (@CurtisHouck) September 17, 2021
Earlier this week, Nikki Minaj shared a tweet from Reid from Sept. 2020 where she asked, "'I mean, will anyone … anyone at all … ever fully trust the [CDC] again?"
Advertisement - story continues below
She added, "How do we get a vaccine distributed after this broken, Trumpist nonsense has infected everything? Even if Biden wins?'"
In a separate tweet days later, Reid asked, "After Trump's HHS, led by a guy who sees shadows on his wall and thinks government scientists are leading a seditious coup vandalized the CDC website with fake news… why would any sensible person take a vaccine Trump had anything to do with?'"
Minaj and Reid sparred on Twitter after the host called out the rapper for sharing a dubious claim about a side effect of the coronavirus vaccine.
In Nov. 2020, Pfizer and BioNTech announced that their vaccine was 90% effective against the coronavirus. In December that same year, the Food and Drug Administration (FDA) authorized the vaccine for emergency use.
And in Aug. 2021, the FDA granted full approval for Pzifer and BioNTech's vaccine.
Advertisement - story continues below
There have been 383,038,403 doses of the vaccine administered, and more than 76.1% of Americans 18 and older have received at least one dose.
Now officials are working to figure out ways to convince the remaining Americans who are hesitant to get the vaccine to get inoculated against the virus.
Some hosts of cable network shows believe that the vaccine-hesitant should be shamed.
CNN's Don Lemon said on Wednesday, "I think we have to stop coddling people when it comes to … the vaccines, saying 'Oh you can't shame them. You can't call them stupid.' Yes, they are. "
Advertisement - story continues below
"The people who are not getting vaccines who are believing the lies on the internet instead of science, it's time to start shaming them or leave them behind," he continued.
Finally, he said, "And we have to stop saying, you know, you have to listen to people. No, you don't. These people are being harmful to the greater good."
Studies have found that the COVID-19 vaccines are safe and effective.
Truth and Accuracy
We are committed to truth and accuracy in all of our journalism. Read our editorial standards.
Comment Down Below
Conversation