News
Removal of Roosevelt Statue Costs New York City $2 Million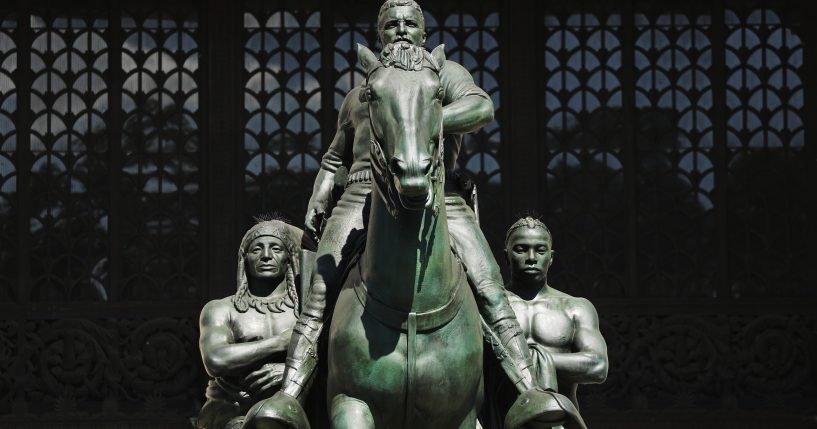 The statue of former President Theodore Roosevelt has been removed from the front of the American Museum of Natural History in New York City.
According to Fox News, the statue was removed just after midnight on Wednesday. It is reportedly on its way to North Dakota.
The outlet noted it cost the city $2 million to remove the statue.
Advertisement - story continues below
The statue of Teddy Roosevelt has been removed from the Natural History Museum in New York City. Left-wing activists said the statue was racist. Video by @ScooterCasterNY: pic.twitter.com/N8EcbwrbVq

— Andy Ngô 🏳️‍🌈 (@MrAndyNgo) January 20, 2022
In June, the New York City Public Design Commission voted unanimously to relocate the statue.
Dan Slippen, vice president of government relations at the museum, said during the meeting, "The understanding of statues and monuments as powerful and hurtful symbols of systemic racism became even more evident in the wake of the movement for racial justice that emerged after the murder of George Floyd."
He added, "It has become clear that removing the statue would be a symbol of progress toward an inclusive and equitable community."
Advertisement - story continues below
According to the museum website, the statue "was meant to celebrate Theodore Roosevelt … as a devoted naturalist and author of works on natural history."
It continues, "At the same time, the statue itself communicates a racial hierarchy that the Museum and members of the public have long found disturbing."
Similarly, the Robert E. Lee statue in Richmond, Virginia, was taken down in September, as IJR reported.
"Robert E. Lee standing here on Monument Avenue is very symbolic to the Confederate mindset, you know the levels of oppression that people feel on a regular day-to-day basis," Lawrence West, founder of BLM RVA, told CNN.
He continued, "With the coming down of the monument it is also a part of coming down with those types of ideals. It brings some closure to the conversation, 'It's OK to be racist.'"
Truth and Accuracy
We are committed to truth and accuracy in all of our journalism. Read our editorial standards.
Comment Down Below
Conversation