News
Rep. Lauren Boebert: 'I'm Tired of This Separation of Church and State Junk'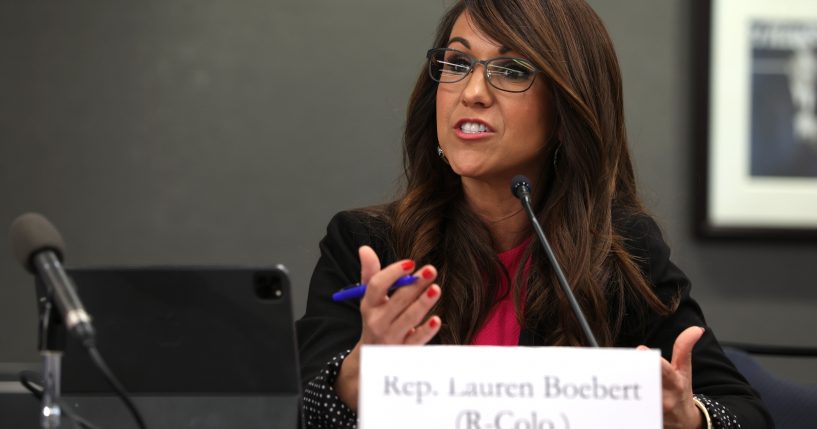 Rep. Lauren Boebert (R-Colo.) suggested the concept of separation between church and state is not in the Constitution.
Boebert made the comment during a speech at the Cornerstone Christian Center in Basalt, Colorado, over the weekend.
"The government is not supposed to direct the church," Boebert said.
Advertisement - story continues below
She suggested that is "not how our Founding Fathers intended it."
Boebert continued, "I'm tired of this separation of church and state junk — that's not in the Constitution. It was in a stinking letter and it means nothing like they say it does."
She received applause from the audience.
Watch Boebert's remarks below:
Advertisement - story continues below
The Washington Post noted many have interpreted the First Amendment to mean the separation of church and state.
Still, the phrase is not used explicitly.
The First Amendment states, "Congress shall make no law respecting an establishment of religion, or prohibiting the free exercise thereof; or abridging the freedom of speech, or of the press; or the right of the people peaceably to assemble, and to petition the Government for a redress of grievances."
The Supreme Court has come under fire recently as some are accusing the institution of breaking down the barrier between church and state.
Advertisement - story continues below
Justice Sonia Sotomayor made the accusation after the court struck down a policy in Maine that banned religious schools from receiving tuition aid funded by taxpayers.
"This Court continues to dismantle the wall of separation between church and state that the Framers fought to build," Sotomayor said.
She explained, "In just a few years, the Court has upended constitutional doctrine," adding, "Shifting from a rule that permits States to decline to fund religious organizations to one that requires States in many circumstances to subsidize religious indoctrination with taxpayer dollars."
Meanwhile, Chief Justice John Roberts wrote, "Maine's 'nonsectarian' requirement for its otherwise generally available tuition assistance payments violates the Free Exercise Clause of the First Amendment."
Advertisement - story continues below
He added, "Regardless of how the benefit and restriction are described, the program operates to identify and exclude otherwise eligible schools on the basis of their religious exercise."
Additionally, the court received criticism after siding with a high school football coach who lost his job after praying on the field after games.
Truth and Accuracy
We are committed to truth and accuracy in all of our journalism. Read our editorial standards.
Comment Down Below
Conversation