News
Report Addresses Ben Affleck's Viral Expression at the Grammys: 'Wasn't His Usual Self'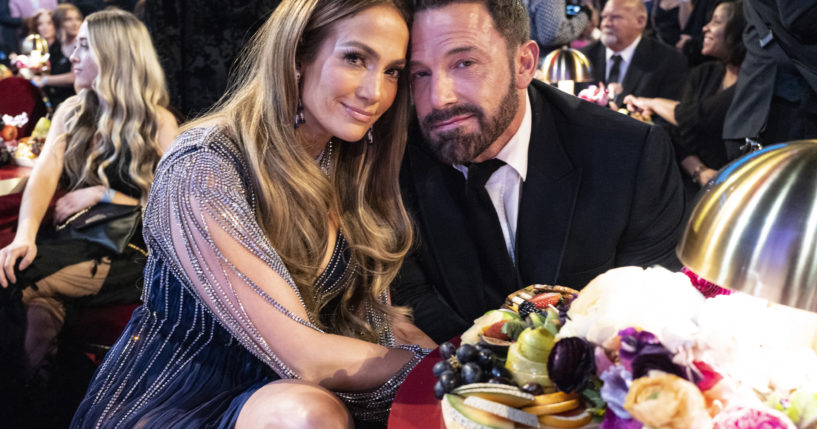 Actor Ben Affleck's expression at the Grammy Awards went viral and a source is sharing what really happened during the event.
Twitter users shared Affleck's "miserable" expression he held while sitting next to his wife, Jennifer Lopez, during the ceremony.
In case you missed it:
Advertisement - story continues below
however bad of a day you're having, I promise you're not as miserable as Ben Affleck at the Grammys right now pic.twitter.com/OQxA54H9P1

— Spencer Althouse (@SpencerAlthouse) February 6, 2023
A source told "Entertainment Tonight" Affleck and Lopez "had a fun date night out at the GRAMMYs, but they have both been very busy working on several projects, and Ben was feeling tired."
The source continued, "He wanted to go and support Jen, but he wasn't his usual self."
According to the source, Lopez "had a great time and wanted Ben to be excited to be there, but she understood where he was coming from," adding, "Jen knows Ben is a great husband and they still made sure to have a good night together."
Advertisement - story continues below
The source went on to say Lopez "knows how supportive Ben is towards her and her work, but also gets that Ben is more of a homebody, and it isn't his thing to be out at events all the time."
The statement goes on, "She is appreciative of his support whether it's while they're out and about or just hanging at home."
Affleck and Lopez tied the knot in 2022 after eloping to Las Vegas and then holding a ceremony in Georgia.
"We did it. Love is beautiful. Love is kind. And it turns out love is patient. Twenty years patient," Lopez said in July.
She added, "Exactly what we wanted. Last night we flew to Vegas, stood in line for a license with four other couples, all making the same journey to the wedding capital of the world."
Advertisement - story continues below
Lopez went on, "So with the best witnesses you could ever imagine, a dress from an old movie and a jacket from Ben's closet, we read our own vows in the little chapel and gave one another the rings we'll wear for the rest of our lives. … But in the end, it was the best possible wedding we could have imagined. One we dreamed of long ago and one made real in the eyes of the state, Las Vegas, a pink convertible and one another at very, very long last."
Truth and Accuracy
We are committed to truth and accuracy in all of our journalism. Read our editorial standards.
Comment Down Below
Conversation