News
Report on Domestic Violence Allegation Against Biden's ICE Nominee Brings Vote to a Halt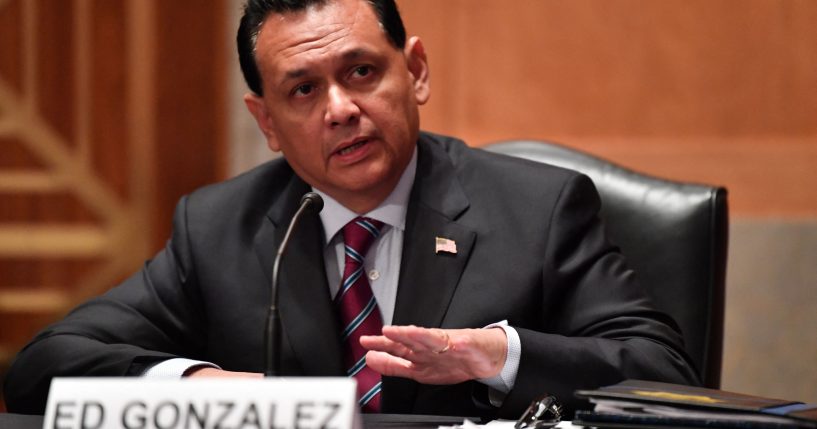 A vote on President Joe Biden's nominee to lead ICE was canceled after a report of a domestic violence allegation.
According to The Washington Times, police investigated Ed Gonzalez, the sheriff of Harris County, Texas, after his wife, Melissa, accused him of becoming "physical or violent" because of her affair with her supervisor at work.
Sen. James Lankford (R-Okla.) described the allegation in a letter stemming from an affidavit last July. He asked Democrat leaders to delay the vote so the matter could be investigated.
Advertisement - story continues below
According to CNN, Melissa Gonzalez, said she had not filed or made a complaint against her husband.
"To be clear, the assertions referenced in the affidavit, as they relate to me, my husband, or my marriage, are completely false," she said in a statement.
The White House also issued a statement defending Gonzalez's nomination.
"Sheriff Gonzalez is an extraordinarily qualified law enforcement professional with 30 years' experience. He has a proven track record of implementing progressive solutions to difficult problems, while coordinating with federal partners, including ICE, to make Harris County Texas safer, and he should be confirmed without delay," the White House official said.
Advertisement - story continues below
Gonzalez told CNN the allegation is false, adding, "All politics."
Biden nominated Gonzalez to head ICE in April of 2021. Homeland Security Secretary Alejandro Mayorkas expressed his approval of the nomination.
"Sheriff Ed Gonzalez is a strong choice for ICE Director. With a distinguished career in law enforcement and public service, Sheriff Gonzalez is well-suited to lead ICE as the agency advances our public safety and homeland security mission," Mayorkas said.
White House Press Secretary Jen Psaki encouraged the Senate to "not only consider but confirm qualified nominees. We certainly consider him one of them."
She added, "The President looks forward to having someone in place in this position, and it certainly indicates a priority that we put it out today."
Truth and Accuracy
We are committed to truth and accuracy in all of our journalism. Read our editorial standards.
Comment Down Below
Conversation