News
Report Makes Claim on a Reason Why Trump Did Not Want Nikki Haley as Running Mate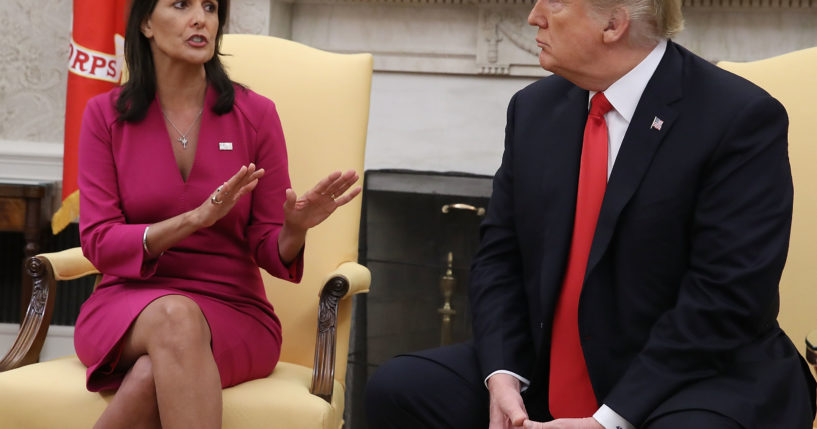 Former President Donald Trump reportedly rejected former Ambassador to the United Nations Nikki Haley as a running mate over her appearance.
CNN global affairs analyst Susan Glasser spoke with co-hosts of "New Day" Brianna Keilar and John Berman about the book she co-authored with Peter Baker titled, "The Divider: Trump in the White House 2017-2021."
Keilar noted the former president has been critical of the appearance of certain people.
Advertisement - story continues below
"You talk about how he was critical of Nancy Pelosi's appearance and how he actually rejected Nikki Haley as a running mate. Tell us why," Keilar said.
Glasser responded, "Some of these stories are so unbelievable, it's amazing that they happened."
She continued, "At one point, Trump apparently really did speak to John Kelley, his then-White House chief of staff, and insist that Nikki Haley…had a 'complexion problem' that he didn't like. He said, 'This doesn't look good for me.'"
Glasser argued Trump "was very motivated and talked often about appearances and in particular had a habit of making derogatory remarks about women."
Advertisement - story continues below
Watch Glasser's comments below:
New book suggests Trump said Nikki Haley had a "complexion problem" and that HR McMaster feared Giuliani was a foreign agent. @sbg1 joins @newday: pic.twitter.com/phoiUeaP4U

— New Day (@NewDay) September 20, 2022
The New York Times noted the book draws on a variety of materials including "hundreds of original interviews, reams of contemporary daily journalism, and an already-fat library of memoirs and journalistic accounts of the Trump years."
In July, Haley hinted at a potential run for the White House in 2024.
While speaking at a summit hosted by Christians United for Israel, Haley criticized President Joe Biden's hopes that his administration would return to the 2015 Iran nuclear deal.
Advertisement - story continues below
"Anything Joe Biden signs will all but guarantee that Iran gets the bomb," Haley said.
She added, "No deal is better than a bad deal. And if this president signs any sort of deal, I'll make you a promise. The next president will shred it on her first day in office."
Haley continued, "Just saying, sometimes it takes a woman."
Last year, Haley said she would not run if Trump entered the race.
Advertisement - story continues below
"I would not run if President Trump ran, and I would talk to him about it," Haley said. "That's something that we'll have a conversation about at some point if that decision is something that has to be made."
Truth and Accuracy
We are committed to truth and accuracy in all of our journalism. Read our editorial standards.
Comment Down Below
Conversation