News
Republican Rep Reports Jane Fonda Following Remark Made on 'The View'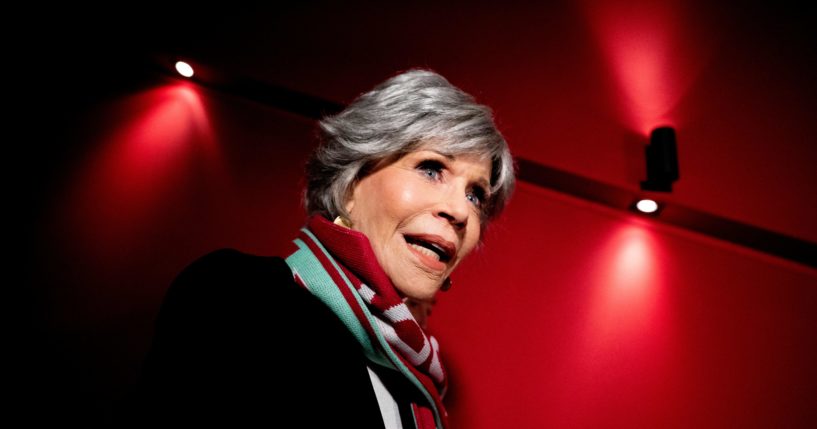 Rep. Anna Paulina Luna (R-FL) wants actress Jane Fonda to face some consequences after making a comment on "The View."
During an appearance on Fox News Monday night, Luna shared that she received a death threat following the remark Fonda made about "murder" and the pro-choice movement.
"Unfortunately, for Ms. Fonda, Capitol Police takes this issue very seriously, as do I and many of my pro-life Republican colleagues so I'm sure that they will be investigating and she will be having to answer for her comments," Luna said.
Advertisement - story continues below
When asked if she contacted the Capitol Police directly to show them a clip of the comment, Luna responded, "Absolutely, as soon as we heard it."
She pointed out "The View" are "supposed to pride themselves on being a channel that promotes women viewpoints."
Luna continued, "Yet, if you are pro-life, they want to essentially promote someone that's calling for your murder."
Watch Luna's comments below:
Advertisement - story continues below
@Janefonda and @TheView will have to answer for these comments.

Calling for violence is not uncommon for the Left, especially when it comes to our stance on protecting life. They're unhinged and need to be held accountable for their double standard. pic.twitter.com/zr6gk90FcQ

— Rep. Anna Paulina Luna (@RepLuna) March 14, 2023
During her appearance on the show, co-host Joy Behar asked Fonda what she would suggest for individuals who disapprove of the Supreme Court's decision to overturn Roe v. Wade.
Do you think Fonda should face the consequences?
"Well, I've thought of murder," Fonda said.
Behar chimed in, saying, "She's just kidding."
Fonda later issued a statement to Fox News attempting to clarify her remark.
Advertisement - story continues below
"While women's reproductive rights are a very serious issue and extremely important to me, my comment on The View was obviously made in jest," Fonda said.
She added, "My body language and tone made it clear to those in the room – and to anyone watching – that I was using hyperbole to make a point."
The actress argued women "across the country are facing real threats when it comes to our bodies, and people lose faith in our mission to protect women when others choose to focus on tangential issues and passing jokes instead of the actual problem at hand."
Truth and Accuracy
We are committed to truth and accuracy in all of our journalism. Read our editorial standards.
Comment Down Below
Conversation