News
Resolution Introduced to Remove Kamala Harris From Border Position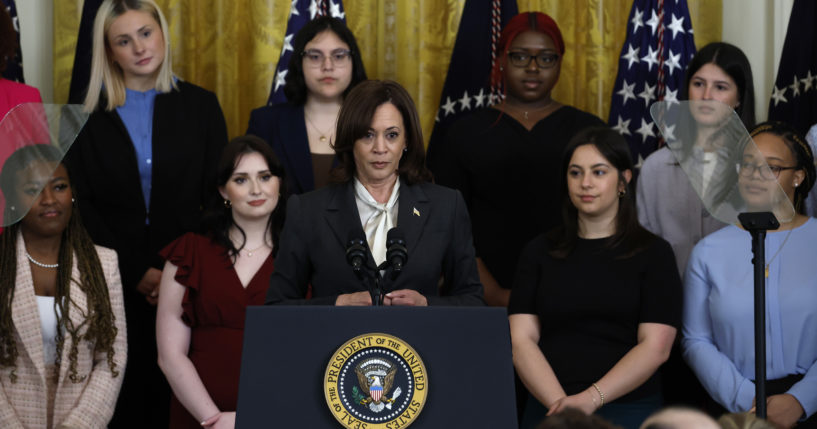 House Republicans are hoping to boot Vice President Kamala Harris from her border czar position.
The Daily Caller obtained a resolution reintroduced Friday by Rep. Ronny Jackson (R-Texas) that seeks to remove Harris from the position two years after President Joe Biden gave it to her.
"Kamala Harris has done nothing to 'address the root cause of migration' or stop the influx of illegal immigrants coming across our border daily. She continues to sit by as the number of illegal immigrants coming across our border skyrockets, fentanyl deaths explode, and CBP officers are left to fend for themselves," Jackson told the outlet.
Advertisement - story continues below
He added, "She has completely betrayed the American people by blatantly disregarding her duties as Border Czar."
Jackson then declared, "Enough is enough! President Biden must remove Kamala Harris and replace her with someone who will put Americans first and stop the crisis at our southern border. Politics should never compromise our national security. We need change now!"
The resolution points out Harris has visited the border once since Biden appointed her to the position.
Additionally, the resolution demands the Biden administration "stop allowing politics in Washington to cloud their judgment regarding policies implemented at the southern border."
Advertisement - story continues below
In September 2022, Harris declared the border "secure" during an interview with NBC.
"I think that there is no question that we have to do what the president and I asked Congress to do, the first request we made: pass a bill to create a pathway to citizenship," Harris said at the time.
Should Harris be removed from the position?
She explained, "The border is secure, but we also have a broken immigration system, in particular, over the last four years before we came in, and it needs to be fixed."
Host Chuck Todd pushed back, saying, "We're going to have two million people cross this border for the first time ever. You're confident this border's secure?"
The vice president replied, "We have a secure border in that that is a priority for any nation, including ours and our administration."
Advertisement - story continues below
She continued, "But there are still a lot of problems that we are trying to fix given the deterioration that happened over the last four years. We also have to put into place a law and a plan for a pathway for citizenship for the millions of people who are here and are prepared to do what is legally required to gain citizenship."
Harris suggested the U.S. does not "have that in place because people are playing politics in a state like this and in Congress."
She added, "By the way, you want to talk about bipartisanship on an issue that at one time was a bipartisan issue both in terms of Republican senators and even presidents."
Biden is currently pushing back against Republican criticism about the border, saying his budget will make it more secure.
Truth and Accuracy
We are committed to truth and accuracy in all of our journalism. Read our editorial standards.
Comment Down Below
Conversation