News
Rittenhouse Has Request for Biden After Labeling Him a White Supremacist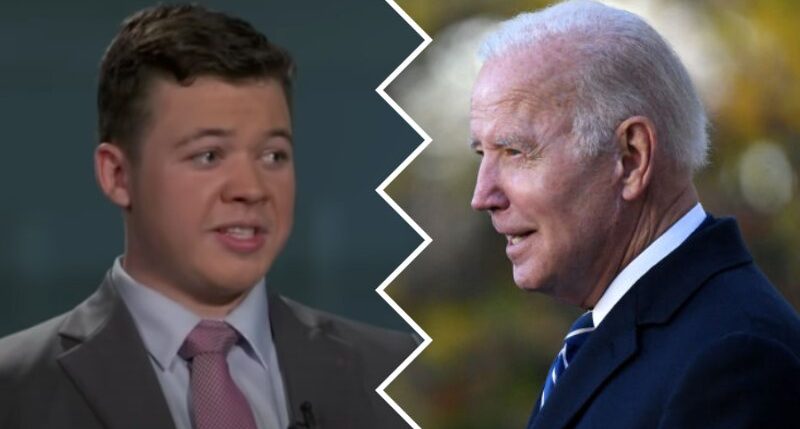 Kyle Rittenhouse has a message for President Joe Biden.
Asked what his reaction is to Biden calling him a "white supremacist" in a 2020 campaign ad, Rittenhouse told Fox News' Tucker Carlson, "Mr. President, if I could say one thing to you, I would urge you to go back and watch the trial, and understand the facts before you make a statement."
He added, "It's actual malice; defaming my character for him to say something like that."
Advertisement - story continues below
Check out his comments below (staring around 6:00):
A picture of Rittenhouse was shown in a video that Biden previously tweeted out where he wrote that then-President Donald Trump "refused to disavow white supremacists on the debate stage."
When asked why Biden labeled Rittenhouse a white supremacist, White House Press Secretary Jen Psaki said during a press briefing last week, "What I'm not going to speak to right now is anything about an ongoing trial, nor the president's past comments. What I can reiterate for you is the president's view that we shouldn't have, broadly speaking, vigilantes patrolling our communities with assault weapons."
Advertisement - story continues below
She added, "We shouldn't have opportunists corrupting peaceful protests by rioting and burning down the communities they claim to represent."
There's no other way to put it: the President of the United States refused to disavow white supremacists on the debate stage last night. pic.twitter.com/Q3VZTW1vUV

— Joe Biden (@JoeBiden) September 30, 2020
Rittenhouse was acquitted on all charges in his murder trial on Friday, as IJR reported on. He was charged with five felonies. He killed two people and wounded another during unrest last summer in Kenosha, Wisconsin, after the police shooting of Jacob Blake.
When testifying during the trial, Rittenhouse broke down and said, "I didn't do anything wrong. I defended myself."
Reacting to Rittenhouse's acquittal, Biden told reporters on Friday, "I stand by what the jury has concluded. The jury system works, and we have to abide by it."
Advertisement - story continues below
Biden also issued a statement on Friday, writing, "While the verdict in Kenosha will leave many Americans feeling angry and concerned, myself included, we must acknowledge that the jury has spoken."
He continued, "I ran on a promise to bring Americans together, because I believe that what unites us is far greater than what divides us. I know that we're not going to heal our country's wounds overnight, but I remain steadfast in my commitment to do everything in my power to ensure that every American is treated equally, with fairness and dignity, under the law."
Truth and Accuracy
We are committed to truth and accuracy in all of our journalism. Read our editorial standards.
Comment Down Below
Conversation