News
Biden Reacts to Kyle Rittenhouse Verdict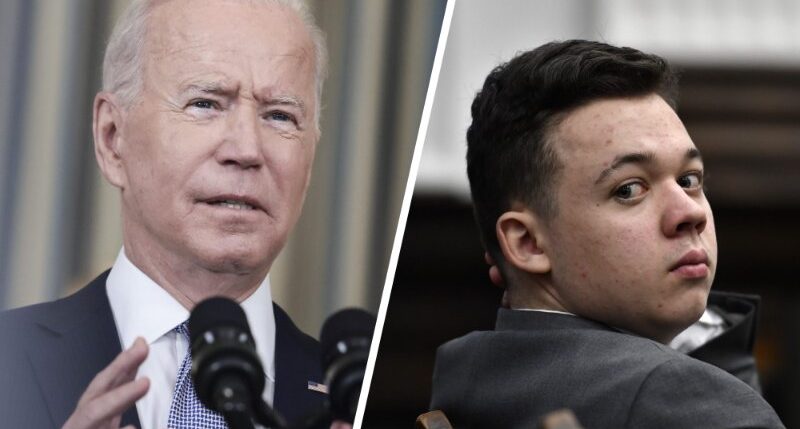 President Joe Biden responded to the verdict reached in the murder trial of Kyle Rittenhouse.
"I stand by what the jury has concluded. The jury system works, and we have to abide by it," Biden told reporters Friday.
"I stand by what the jury has concluded. The jury system works, and we have to abide by it." — President @JoeBiden on the Kyle Rittenhouse verdict pic.twitter.com/kfo8a2AnXI

— Mediaite (@Mediaite) November 19, 2021
Advertisement - story continues below
The White House issued a full statement from the president on the matter.
"While the verdict in Kenosha will leave many Americans feeling angry and concerned, myself included, we must acknowledge that the jury has spoken," Biden said.
He continued, "I ran on a promise to bring Americans together, because I believe that what unites us is far greater than what divides us. I know that we're not going to heal our country's wounds overnight, but I remain steadfast in my commitment to do everything in my power to ensure that every American is treated equally, with fairness and dignity, under the law."
The president called on Americans "to express their views peacefully, consistent with the rule of law."
Advertisement - story continues below
The statement went on, "Violence and destruction of property have no place in our democracy. The White House and Federal authorities have been in contact with Governor Evers's office to prepare for any outcome in this case, and I have spoken with the Governor this afternoon and offered support and any assistance needed to ensure public safety."
Rittenhouse was acquitted on all charges, as IJR reported. He was charged with first-degree intentional homicide, first-degree reckless homicide, attempted first-degree homicide, and two counts of first-degree recklessly endangering safety.
The verdict garnered strong reactions on Twitter. New York City Mayor Bill de Blasio (D) wrote, "This verdict is disgusting and it sends a horrible message to this country.  Where is the justice in this?"
He added, "We can't let this go. We need stronger laws to stop violent extremism from within our own nation."
Rep. Cori Bush (D-Mo.) also tweeted, "The judge. The jury. The defendant. It's white supremacy in action."
Advertisement - story continues below
She continued, "This system isn't built to hold white supremacists accountable. It's why Black and brown folks are brutalized and put in cages while white supremacist murderers walk free. I'm hurt. I'm angry. I'm heartbroken."
Others voiced their support for Rittenhouse.
Justice was done. Kyle Rittenhouse was unfairly maligned by a dishonest press, and politicians who used him to advance their own fortunes. If there are riots, these smear merchants will shoulder much of the blame.

— Megyn Kelly (@megynkelly) November 19, 2021
Mr. Rittenhouse was smeared from the very beginning by activists and partisans who falsely branded him as a white supremacist and decided he was guilty before any evidence was produced, all while excusing the illegal actions of violent rioters.

— Senator Ted Cruz (@SenTedCruz) November 19, 2021
Advertisement - story continues below
Heaps and heaps of shame upon our so called media. Sadly, we actually no longer have a media. Just a bunch of dumb activists bleating "racist".
I am celebrating today's verdict that Kyle Rittenhouse is NOT GUILTY. What an amazing jury: heroic.

— Ayaan Hirsi Ali (@Ayaan) November 19, 2021
.@AyannaPressley you owe Kyle Rittenhouse an apology NOW.

We will continue to maintain that in America, defendants are innocent until proven guilty.

Kyle Rittenhouse has been found NOT GUILTY.

His white skin doesn't make him a white supremacist and that AR-15 saved his life. pic.twitter.com/VSXhOusNeQ

— Marjorie Taylor Greene 🇺🇸 (@mtgreenee) November 19, 2021
Rittenhouse had a strong reaction himself as he began to cry as the verdict was read.
BREAKING: Kyle Rittenhouse acquitted on all charges in shooting that killed two people and injured a third. https://t.co/hEBVNgnsLn pic.twitter.com/kwiwr8Nj2C

— MSNBC (@MSNBC) November 19, 2021
Advertisement - story continues below
Rittenhouse fatally shot two men and injured another during unrest that broke out following the 2020 police shooting of Jacob Blake.
Truth and Accuracy
We are committed to truth and accuracy in all of our journalism. Read our editorial standards.
Conversation