News
Kyle Rittenhouse Hyperventilates on Witness Stand While Testifying About Fatal Shooting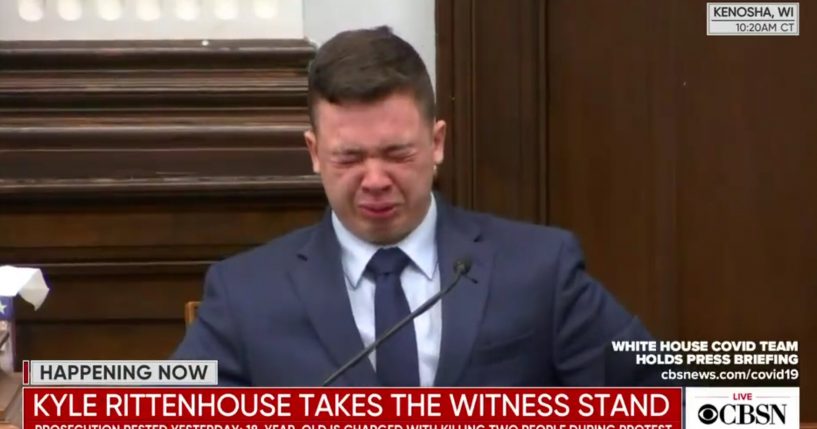 The trial for Kyle Rittenhouse took a turn after he broke down while testifying about fatally shooting two men and injuring another.
Rittenhouse took to the stand to testify about the shooting that killed Joseph Rosenbaum and Anthony Huber, and also injured Gaige Grosskreutz, as The New York Post reports.
The shooting took place in August of 2020 after unrest broke out in Kenosha, Wisconsin, following the police shooting of Jacob Blake.
Advertisement - story continues below
During his testimony Wednesday, Rittenhouse told the court, "I look over my shoulder and Mr. Rosenbaum…was now running from my right side and I was cornered from, in front of me, with Mr. [Joshua] Ziminski."
According to The Hill, Ziminski was another protester.
Growing emotional, Rittenhouse continued, "There were three people right there."
After hyperventilating for a few moments, the judge called for a 10-minute recess.
Advertisement - story continues below
Watch the video below:
WATCH: Kyle Rittenhouse breaks down on the witness stand while describing the events leading to his fatal shooting of Kenosha resident Joseph Rosenbaum — causing the judge to call a pause in the trial https://t.co/6zHGXaFu9m pic.twitter.com/od3Vd4i3UG

— CBS News (@CBSNews) November 10, 2021
Rittenhouse defended himself during his testimony, saying, "I didn't do anything wrong. I defended myself."
Grosskreutz admitted he pursued Rittenhouse, believing he was an active shooter, and "unholstered his own concealed firearm," as CNN reported.
He said, "I was never trying to kill the defendant," adding, "In that moment, I was trying to preserve my own life, but doing so while taking the life of another is not something I am capable or comfortable doing."
Advertisement - story continues below
Defense attorney Corey Chirafisi asked Grosskreutz, "When you were standing three to five feet from him with your arms up in the air, he never fired, right?"
He replied, "Correct."
Chirafisi continued, "It wasn't until you pointed your gun at him, advanced on him with your gun — now your hand is down pointed at him — that he fired, right?"
Grosskreutz responded, "Correct."
Advertisement - story continues below
The outlet also reported Rittenhouse pleaded not guilty to six charges. First-degree intentional homicide, first-degree reckless homicide and first-degree attempted intentional homicide are among the charges.
His testimony comes just one day after the prosecution rested its case. Last week the prosecution called 15 witnesses, including police, witnesses who had footage of the shooting and men who were also armed that same night.
Truth and Accuracy
We are committed to truth and accuracy in all of our journalism. Read our editorial standards.
Comment Down Below
Conversation