News
'Unique and Repulsive Level of Arrogance': RNC's Ronna McDaniel Slams Biden for Handling of Afghanistan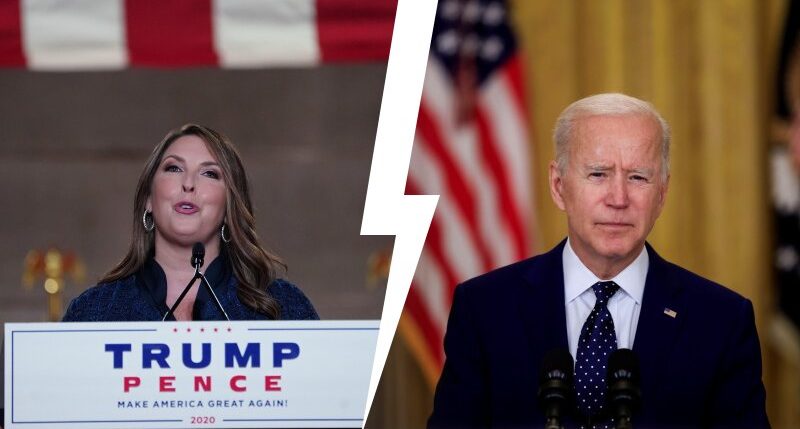 Republican National Committee Chairwoman (RNC) Ronna McDaniel is blasting President Joe Biden for his "unforgivable failure to manage America's withdrawal from Afghanistan."
In an op-ed published by Fox News on Wednesday, McDaniel argued Biden's "disastrous decision-making has empowered an evil terrorist organization, put millions of Afghan women and children at risk of rape and murder, betrayed the tens of thousands of U.S. soldiers who fought in Afghanistan, and sullied America's global image."
She noted that Biden said weeks ago it was "highly unlikely" that the Taliban could take over Afghanistan, adding, "Just 48 hours. That's how long it took for the Taliban to prove – with horrific violence and brutality – that Biden and his officials were totally unaware of the life-and-death consequences of their actions."
Advertisement - story continues below
McDaniel accused the president of undoing the hard work of men and women who "valiantly fought and served in Afghanistan to protect our country and keep terrorism at bay."
Calling it a "failure on every front," McDaniel explained, "Thanks to Biden, the Taliban will now use taxpayer-funded weapons to subjugate Afghanistan's citizenry."
The Republican National Committee chairwoman took a swipe at Biden for spending "the last several days holed up at Camp David, enjoying the luxurious benefits of the presidency as abandoned Afghans die in the streets of Kabul."
She continued, "Americans should be disgusted. It takes a unique and repulsive level of arrogance to create a humanitarian crisis and then avoid any responsibility for its fallout."
Advertisement - story continues below
McDaniel asked, "Where is the transparency? Where is the accountability? Where is the leadership?"
Concluding her op-ed, McDaniel called Biden "a failed leader utterly confident in his ability to avoid responsibility for his actions."
Is Biden a failed leader?
Biden defended his decision to pull troops out of Afghanistan during a speech on Monday, saying, "The choice I had to make, as your president, was either to follow through on that agreement, or be prepared to go back to fighting the Taliban in the middle of the spring fighting season."
Truth and Accuracy
We are committed to truth and accuracy in all of our journalism. Read our editorial standards.
Comment Down Below
Conversation