News
Romney Torches Biden's First Year in Office: He Had '52 Weeks of Bad Weeks'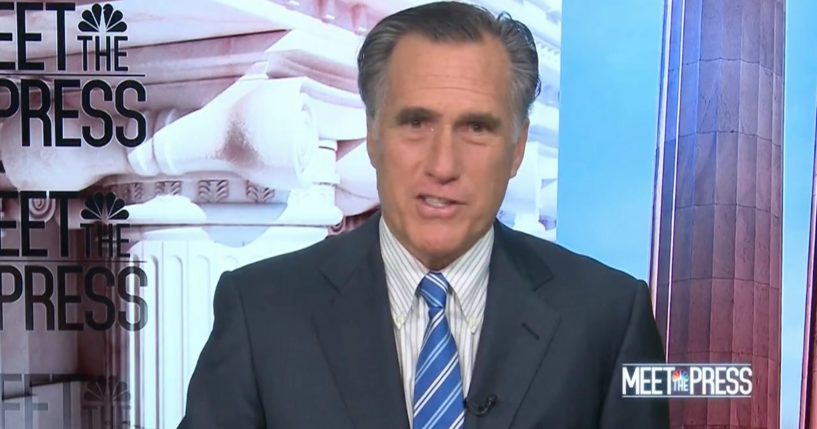 Sen. Mitt Romney's (R-Utah) summation of President Joe Biden's first year in office is bleak: just one "bad" week after another.
During an appearance on NBC's "Meet The Press" Sunday, Romney was asked by host Chuck Todd, "Where do you think we stand? If you just read The New York Times' op-ed page this week, I think there were two columns on civil war, one about America is coming apart at the seams. Is that where you are? Where do you think the nation is right now?"
"There's no question the nation is severely divided," Romney began. "President Biden said he was going to try to unite the country. Obviously, as you pointed out in the last segment, his comments in Georgia did not suggest he's trying to pull us back together again."
Advertisement - story continues below
He continued, "He's got to recognize that when he was elected, people were not looking for him to transform America. They were looking to get back to normal, to stop the crazy. And it seems like we're continuing to see the kinds of policy and promotions that are not accepted by the American people."
"Look, James Carville just said that, you know, he's had a bad week but not a bad year. No, no, as a matter of fact, he's had a bad year. He's had 52 weeks of bad weeks," the Utah senator added.
Watch the video below:
The 1st year of the Biden Administration has been 52 bad weeks:

-7% inflation
-botched Afghanistan withdrawal
-COVID resurgence & testing shortage
-disaster at our southern border

POTUS needs to stop trying to transform America and work to unify the country, like he promised. pic.twitter.com/xhrhASZC6c

— Senator Mitt Romney (@SenatorRomney) January 16, 2022
Advertisement - story continues below
Romney went on to note the surge in COVID-19 cases and Biden's much-criticized handling of the withdrawal from Afghanistan. He also pointed out that the pace of inflation is at a 40-year high, and there are concerns Russia appears to be preparing to invade Ukraine.
"Things are not going well. And the president needs to stop and reset and say what is it he's trying to accomplish. And if it's to try and transform America, he's not going to unite us. Bringing us together means trying to find a way to work on a bipartisan basis," he added.
Finally, Romney urged Biden to "build" on the success of the $1 trillion bipartisan infrastructure package he signed into law late last year.
Truth and Accuracy
We are committed to truth and accuracy in all of our journalism. Read our editorial standards.
Comment Down Below
Conversation