News
Rudy Giuliani's Son Defends Him After Judges Revoke Law License: Did Everything 'By the Book'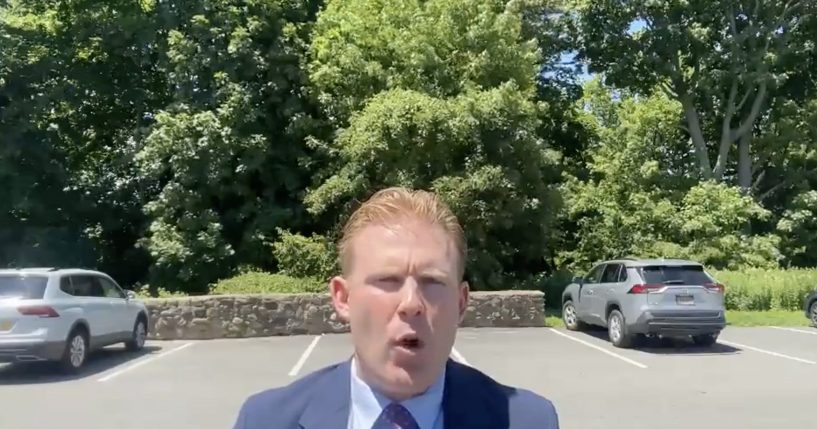 Rudy Giuliani's son, Andrew Giuliani, defended his father after judges suspended his law license, calling it "unacceptable."
Pointing out all five of the judges who voted to revoke his father's license are Democrats, Andrew Giuliani continued, "Five to nothing, ultimately. Democrats with zero Republicans on there. This is just unbelievable to see just how politicized all of this has become."
He continued, "I am infuriated by all of this and any American that believes in an independent justice system… this is going after one of President Trump's closest allies. That's exactly what this is, and any American that doesn't believe that, they are just biased. This is unacceptable, and I stand by my father. He did everything, ultimately, by the book."
Advertisement - story continues below
Andrew Giuliani recorded the video in a parking lot on Thursday.
Watch the video below:
Andrew Giuliani responds to the suspension of his father's law license by a New York court, saying all 5 judges that issued the ruling are Democrats. pic.twitter.com/JyTb50930G

— Jennifer Franco (@jennfranconews) June 24, 2021
The Appellate Division of the New York Supreme Court announced it was "immediately suspending" Giuliani's license on Thursday, as IJR reported.
Advertisement - story continues below
"We conclude that there is uncontroverted evidence that respondent communicated demonstrably false and misleading statements to courts, lawmakers and the public at large in his capacity as lawyer for former President Donald J. Trump and the Trump campaign in connection with Trump's failed effort at reelection in 2020," the court wrote.
The ruling added, "These false statements were made to improperly bolster respondent's narrative that due to widespread voter fraud, victory in the 2020 United States presidential election was stolen from his client. We conclude that respondent's conduct immediately threatens the public interest and warrants interim suspension from the practice of law, pending further proceedings before the Attorney Grievance Committee."
Truth and Accuracy
We are committed to truth and accuracy in all of our journalism. Read our editorial standards.
Conversation