Sanders' Campaign Would Not Take Bloomberg's Money in General Election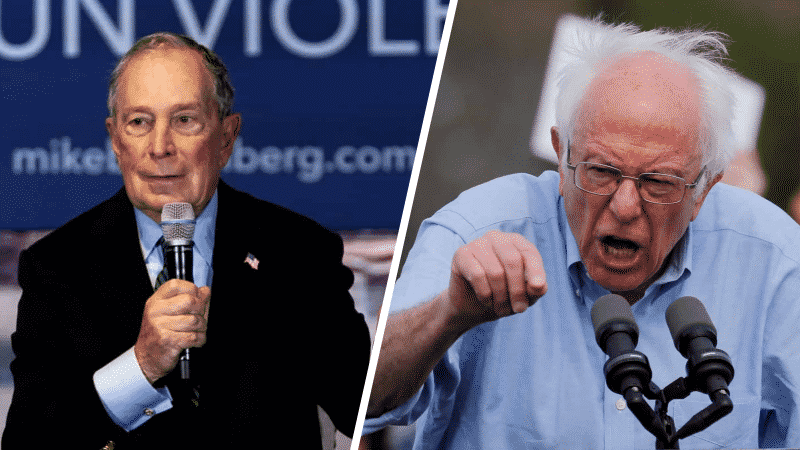 After two contentious debates with billionaire Michael Bloomberg, Sen. Bernie Sanders' (I-Vt.) team says he would not accept the mayor's money during a general election.
Jeff Weaver, Sanders' closest aide, made the comments after the Tuesday night debate in South Carolina. He was asked directly by NBC News if the Sanders camp would take Bloomberg's money should Sanders become the nominee.
"It's a hard no," Weaver told NBC News. "Bernie has said he's going to fund his presidential campaign with small-dollar contributions, and I think we can do that. I think we can raise over a billion dollars in small-dollar contributions."
Sanders advisor Jeff Weaver tells reporters after tonight's #DemDebate that it's a "Hard no" that Sen. @BernieSanders will take Bloomberg's money in a general election. Previously Sanders himself had not gone this far pic.twitter.com/zxTB3nQehg

— Gary Grumbach (@GaryGrumbach) February 26, 2020
Previously, Sanders wouldn't go as far as saying he would reject money from Bloomberg — who has a long history of funding both Democrats and Republicans in elections. Bloomberg has pledged to spend "whatever it takes" to defeat President Donald Trump in 2020, but his team similarly seemed uninterested in helping Sanders if their campaign didn't want it.
"Bernie said he didn't want [Bloomberg's] money, so we're not going to," Bloomberg's senior adviser Howard Wolfson told NBC News after the debate. "I don't think it would be prudent to spend on behalf of somebody who didn't want it."
Already, Bloomberg has spent more than $500 million on his campaign during the primary race. In the meantime, though, Sanders has been hammering candidates like former South Bend, Ind., Mayor Pete Buttigieg for accepting money from billionaires at all.
"We believe in old-fashioned democracy: one person, one vote, not billionaires buying elections," Sanders said at a North Carolina rally.
So far, though, he appears to be the only candidate to say he wouldn't take Bloomberg's money. Even Sen. Elizabeth Warren (D-Mass.), who shares Sanders' progressive ideals, said she would accept help from Bloomberg against Trump.
"I think everyone else has said they want the help, including Elizabeth Warren," Wolfson told NBC News. "If Elizabeth Warren is the nominee, we will do everything we can to help her. Sanders is the one candidate who said he didn't want the help."