IJR
Sanders Says He Is 'Tired of Talking' About Manchin and Sinema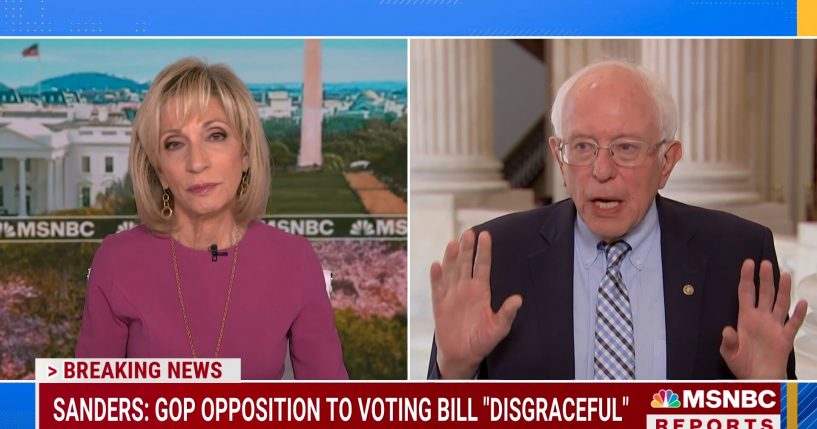 Sen. Bernie Sanders (I-Vt.) says Democrats need more members of their party in the Senate after Republicans blocked a sweeping election reform bill.
He also said he is "tired" of talking about Sens. Kyrsten Sinema (D-Ariz.) and Joe Manchin (D-W.Va.).
During an interview on MSNBC on Wednesday, host Andrea Mitchell asked Sanders, "What do you do about the objection to ending the filibuster from both Senators Manchin and Sinema?"
Advertisement - story continues below
"I'm tired of talking about Mr. Manchin and Ms. Sinema," he responded. "We have got to do what we can to bring people together. The American people, I think, all over this country, understand that now is the time to act."
He continued, "And I will also tell you, clearly we are constrained by the fact that we only have 50 Democrats. And to my mind, what this next election is going to be about is whether the American people want us to have a government that represents all people, that believes in democracy, or not. And we need a hell of a lot more Democrats in the Senate than we have right now."
Watch the video below:
Advertisement - story continues below
Sanders' comments come a day after Democrats held a procedural vote on their sweeping For the People Act, which is designed to overhaul campaign finance laws, expand access to voting, and protect against foreign interference in elections.
However, Republicans blocked the beginning of the debate on the bill in a 50-50 vote. Due to the filibuster, Democrats would have needed 10 Republicans to vote with them to begin debate on the bill.
Tuesday's vote means that for now, the For the People Act is stalled in the Senate, which is evenly divided between parties.
Democrats could pass the bill if they get rid of the filibuster, which would let them pass legislation with just 51 votes, with Vice President Kamala Harris casting the tie-breaking vote.
In order to eliminate the filibuster, Democrats would need all 50 of their members in the Senate to vote in favor of the move.
Advertisement - story continues below
However, Sinema reiterated her opposition to the move in an op-ed earlier this week. Manchin has also said he opposes eliminating the filibuster.
Truth and Accuracy
We are committed to truth and accuracy in all of our journalism. Read our editorial standards.
Comment Down Below
Conversation