News
Sinema Calls Out Dems Trying To Kill the Filibuster After Using It 'Just Last Year'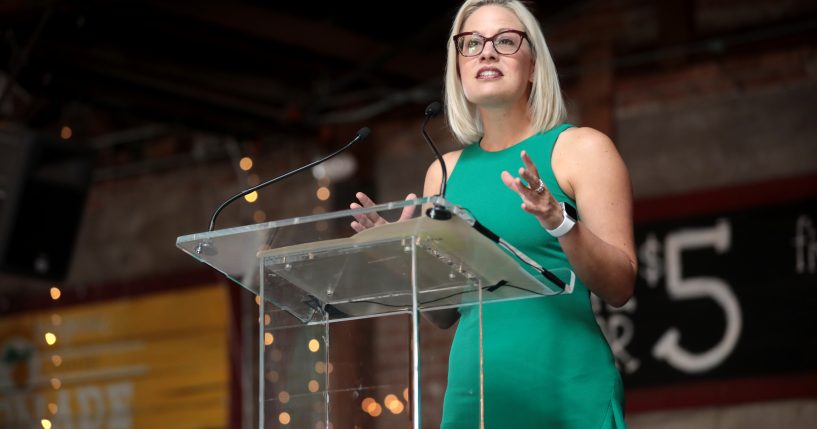 Sen Kyrsten Sinema (D-Ariz.) is defending the filibuster while calling out Democrats who are trying to end it after using it "just last year."
According to the Senate, the filibuster is "a loosely defined term for action designed to prolong debate and delay or prevent a vote on a bill, resolution, amendment, or other debatable question."
The Senate rule requires 60 votes for most legislation to pass.
Advertisement - story continues below
In an op-ed published by The Washington Post on Monday evening, Sinema argued bipartisanship is still the best way to reach solutions.
"I understand bipartisanship seems outdated to many pundits. But the difficult work of collaboration is what we expect in Arizona," Sinema wrote.
She continued, "And I still believe it is the best way to identify realistic solutions — instead of escalating all-or-nothing political battles that result in no action, or in whipsawing federal policy reversals."
Sinema noted the bipartisan approach has "produced laws curbing suicide among our troops and veterans, boosting American manufacturing, delivering for Native American communities, combating hate crimes, and protecting public lands."
Advertisement - story continues below
She explained her position on the filibuster has not changed just because her party is now has the majority in the Senate.
"Once in a majority, it is tempting to believe you will stay in the majority. But a Democratic Senate minority used the 60-vote threshold just last year to filibuster a police reform proposal and a covid-relief bill that many Democrats viewed as inadequate," Sinema said.
She added, "Those filibusters were mounted not as attempts to block progress, but to force continued negotiations toward better solutions."
Addressing those who want to eliminate the filibuster to pass voting rights legislation, Sinema asked, "Would it be good for our country if we did, only to see that legislation rescinded a few years from now and replaced by a nationwide voter-ID law or restrictions on voting by mail in federal elections, over the objections of the minority?"
"To those who want to eliminate the legislative filibuster to empower federal agencies to better protect the environment or strengthen education: Would it be good for our country if we did, only to see federal agencies and programs shrunk, starved of resources, or abolished a few years from now?"
Advertisement - story continues below
She went on, "This question is less about the immediate results from any of these Democratic or Republican goals — it is the likelihood of repeated radical reversals in federal policy, cementing uncertainty, deepening divisions and further eroding Americans' confidence in our government."
The senator vowed she would "not support an action that damages our democracy because someone else did so previously or might do so in the future."
She concluded, "If we eliminate the Senate's 60-vote threshold, we will lose much more than we gain."
Sen. Joe Manchin (D-W. Va.) has also expressed opposition to getting rid of the filibuster.
Truth and Accuracy
We are committed to truth and accuracy in all of our journalism. Read our editorial standards.
Comment Down Below
Conversation